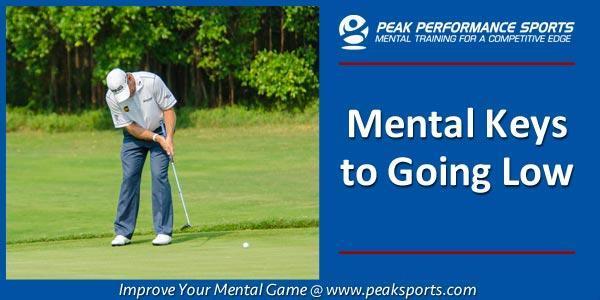 Jim Furyk: Making History on the PGA Tour
Jim Furyk made history last week at the Travelers Championship by shooting 58 on Sunday, which was the lowest round ever on the PGA TOUR. Furyk shot 75, 68, 74, and 58.
Furyk struggled to make the cut the first two days, but lit up the par 70 course on Sunday.
He stated that you are never far from playing well no matter how bad your swing feels.
"It's kind of a reminder no matter how bad you feel with your swing, you're never that far away, or no matter how good you feel you're probably not that far away from playing poorly, as well," said Furyk.
"I went out yesterday [Saturday] and really didn't have command of the golf ball, and turned around and played pretty much a flawless round of golf today."
Going low is always a challenge for golfers even on the PGA Tour. When you are "throwing a no-hitter," it becomes harder and harder to not think about it as the game goes on…
Most golfers I work with have a comfort zone (scoring range) they feel comfortable with. This keeps them stuck from breaking scoring barriers. When they go low, it's hard to not hit the breaks and protect the score.
In protection mode, you have a mental battle with yourself about trying to make more birdies and trying not to make mistakes–which causes you to play tentatively.
When did Furyk start thinking about shooting 58 or less?
"The mental battle really started after 12. Now I've got it 11-under par. I've got it in the 50s, and kind of the sky's the limit," said Furyk. "So fighting really trying to stay out of the way, stay aggressive, not get conservative, not — and really not strategy-wise, but it's easy in that situation to make a very conservative swing."
The challenge is to continue to play aggressive when you are going low. The mind wants to get in the clubhouse fast and post a score and thus you play more conservative and try to not make bogeys, which leads to bogeys.
The key is to play smart, but continue to make an aggressive swing. Other golfers have told me the same thing… You don't want to fire at every pin, but still make a committed swing, not tentative.
"I want to take a smart route or try — not always trying to hit it this far. There's pins where you're going to play 15 feet left or right of the pin, but then you have to make an aggressive swing to get there, and I was able to do that for most of the day."
Mental Keys to Going Low:
1. Plan A is to not obsess about your score and how well you are playing in the round. The moment you think you are scoring well, you can jerk yourself out of the zone and protect your score.
2. Plan B is to continue to play aggressive. Pick smart targets, but focus on the target, not the trouble.
3. Challenge yourself to finish strong, such as to have three more birdie chances on the last four holes. Think birdie chance instead of trying to avoid bogies.
Uncover some of my mental game strategies for golf here!
---

Learn Proven Strategies to Perform with Confidence!
Do you suffer from fragile self-confidence after missed hits, playing with strict or high expectations that undermine confidence or the inability to play freely and relaxed on the course?
If you suffer from lack of focus, low self-confidence or other mental game obstacles on the course, you cant reach your true golf potential…
Successful golfers have learned how to perform with ultimate confidence in competition, so we've developed
The Golfer's Mental Edge
Workbook and CD program to help you do this!
The Golfer's Mental Edge
program includes the top 8 mental training sessions I do with my personal students to help them boost their mental game and improve consistency on the course.
The Golfer's Mental Edge
program includes 8 confidence-boosting CDs, MP3 audio recordings and an 8-session golfer's mental edge workbook.
What are students saying?
"The mental side is everything in golf—the ability to see your shot or line and trust that you can hit that shot or putt. Dr. Cohn has helped me trust my game and putting stroke."
~Frank Lickliter, PGA Tour, Nike Tour Winner
"My confidence level has never been higher! I can't tell you how clearly I was able to think during all four rounds of tour-school. The simple game plan you gave me really focused me. My confidence level has never been higher during a tournament. No matter how much pressure was on, I was able to control my thoughts and execute. Thank you Dr. Cohn!"
~Patricia Baxter-Johnson, LPGA Tour
---
Learn Powerful Golf Confidence Strategies!
Are you making any "costly" mental game mistakes during your preshot routine?
Here you'll learn the top mental game strategies your preshot routine must include, 6 ways your mental routine breaks down, why indecision is your worst enemy in golf and more!
What are customers saying?
"Dr. Cohn, my golf game has improved since the very first time I landed on Peaksports.com! You gave me just enough information to improve immediately! After that, it was a mere no-brainer to become a Peaksports Subscriber! Thank you for helping me improve my game and enjoyment – even overnight! You are right on!"
~Randall Estes
---
Boost Your Self-Confidence And Focus With Expert Mental Game Coaching!
Master mental game coach Dr. Patrick Cohn can help you overcome your mental game issues with personal coaching.
You can work with Dr. Patrick Cohn himself in Orlando, Florida or via Skype, FaceTime, or telephone. Call us toll free at 888-742-7225 or contact us for more information about the different coaching programs we offer!
What are our students saying?
"WOW!!! What a week I had. I was able to perform with a confidence that allowed my style to shine through–no more entering the arena with that "deer in the headlights" look or feeling. I stopped evaluating myself while I was performing, and I actually left the arena after my patterns feeling like I had experienced a lot of fun. Thank you so much."
~Julia Dreyer, National Champion Equestrian