Download My Free Mental Toughness Report!
Discover if you are making one or more of these "costly" mental game mistakes prior to competition!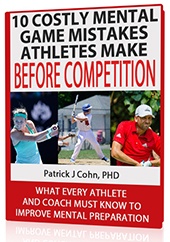 "The amount of knowledge I've learned from your eBooks, books and podcasts at Peaksports is fantastic! You're the best Mental Training coach I've found. I research the subject a lot and other sport psychologists aren't as comprehensive as you."*
~Gavin Clark, PGA Member
In this PDF report, you'll:
Discover if those pregame jitters are positive or negative.
Identify mistakes in your pre-competition mental preparation.
Learn the important pregame mental skills to perform your best!
Learn how your mental game might sabotage your success in sports!
You'll also receive regular updates of more mental toughness tips to boost your performance in sports! Complete the form below and get your FREE report. Your new competitive success begins here!
Please enter your name, primary email, and role in sport below. Access your FREE REPORT:
Learn how sports psychology strategies can boost your mental toughness in sports with Dr. Cohn's free mental game reports. Find the report you want from the list below and download at Peaksports.com. Hope you enjoy!
Other Free Mental Game Reports

---
Disclaimer
*Testimonials found on this site are examples of what we have done for other clients, and what some of our clients have said about us. However, we cannot guarantee the results in any case. Your results may vary and every situation is different. No compensation was provided for these testimonials.