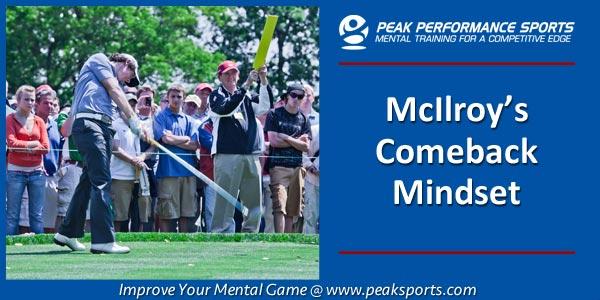 McIlroy's Mindset When Playing Golf
This past Sunday, Rory McIlroy won the 2014 PGA Championship. This is McIlroy's fourth major championship win.
McIlroy shot 68 and finished 16 under par, followed closely by Phil Mickelson (15 under par), Rickie Fowler and Henrik Stenson (14 under par).
The first nine holes were rough for McIlroy. He bogeyed two of the first six holes, leaving him a couple shots back of the lead.
How do champions mount a come-from-behind win?
He remained patient and knew that he could mount a come back…
McIlroy stated, "I was like, okay, let's try and shoot 30 on this back nine. I knew there were birdies out there for me. I've played the back nine really well all week. I've probably played it better than anyone in the field, and I knew that."
When he got to the back nine holes, he was able to do just that. He stayed patient by not allowing a "flat" start to derail his momentum.
McIlroy's mental keys to grinding it out and coming from behind:
1. Full confidence in your abilities. Rory McIlroy played his game.
"I've got that sense of belief in myself now that I go into every tournament I play knowing that I can win.  It's a great feeling to have.  It's great to have in your self‑belief and your confidence; knowing that if I can just play my game, there's a good chance that I'll walk away with the win."
2. If you have a rough start, stay patient. Put the poor start behind you and look to the next few holes to gain back momentum. McIlroy did just that during the back nine.
"Through the first five or six holes today, I felt a little flat.  I felt flat and I really needed to dig deep and say, there's only 12 more holes left in this thing and you just have to try and put everything into it."
3. Believe that you can play your best, even after playing not so great.
"To win it in this fashion and this style, it means a lot. It means that I know that I can do it. I know that I can come‑from‑behind. I know that I can mix it up with the best players in the world down the stretch in a major and come out on top."
Dominate the field with ultimate confidence today! Order The Golfer's Mental Edge now to start improving your mental game for tournaments.
---

Learn Proven Strategies to Perform with Confidence!
Do you suffer from fragile self-confidence after missed hits, playing with strict or high expectations that undermine confidence or the inability to play freely and relaxed on the course?
If you suffer from lack of focus, low self-confidence or other mental game obstacles on the course, you cant reach your true golf potential…
What are students saying?
"The mental side is everything in golf—the ability to see your shot or line and trust that you can hit that shot or putt. Dr. Cohn has helped me trust my game and putting stroke."
~Frank Lickliter, PGA Tour, Nike Tour Winner
"My confidence level has never been higher! I can't tell you how clearly I was able to think during all four rounds of tour-school. The simple game plan you gave me really focused me. My confidence level has never been higher during a tournament. No matter how much pressure was on, I was able to control my thoughts and execute. Thank you Dr. Cohn!"
~Patricia Baxter-Johnson, LPGA Tour
---
Learn Powerful Golf Confidence Strategies!
Are you making any "costly" mental game mistakes during your preshot routine?
Here you'll learn the top mental game strategies your preshot routine must include, 6 ways your mental routine breaks down, why indecision is your worst enemy in golf and more!
What are customers saying?
---
Boost Your Self-Confidence And Focus With Expert Mental Game Coaching!
Master mental game coach Dr. Patrick Cohn can help you overcome your mental game issues with personal coaching.
You can work with Dr. Patrick Cohn himself in Orlando, Florida or via Skype, FaceTime, or telephone. Call us toll free at 888-742-7225 or contact us for more information about the different coaching programs we offer!
What are our students saying?
"WOW!!! What a week I had. I was able to perform with a confidence that allowed my style to shine through–no more entering the arena with that "deer in the headlights" look or feeling. I stopped evaluating myself while I was performing, and I actually left the arena after my patterns feeling like I had experienced a lot of fun. Thank you so much."
~Julia Dreyer, National Champion Equestrian