Stop Practicing When You Compete
Today on the Top 10 Challenges of Perfectionism Dr. Cohn talks about athletes who are stuck in a practice mindset when they compete.
One of the characteristics of perfectionists is that they are very comfortable in their practice routines, but as comfortable in competition–for many different reasons.
One reason is they are confident in their practice, drilling, and they perform well in practice. But at game time, they try too hard to be perfect with their technique.
Watch the full video to learn more about how athletes get stuck in a practice mindset and how over thinking limits athletes ability in competition.
And check back next week for the next episode of the Top 10 Challenges of Perfectionists: High Expectations.

Related Program
The Fearless Athlete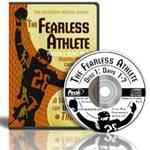 "The Fearless Athlete" is program 4 in "The Confident Athlete" audio series. Learn how to overcome the mental handcuffs of perfectionism and fear of failure, leading you to perform with unshakeable trust. Dr. Cohn delivers his new program in a step-by-step practical workbook you use for just 15 minutes a day! Learn more now. Or buy now on our shoping cart:
-Digital Download Only: $79 – BUY NOW!
-CDs Shipped to You: $89 – BUY NOW!