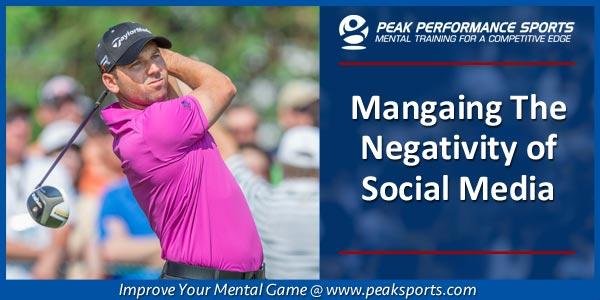 Social Media Effects In Sports
How much time do you spend poring over Twitter, Facebook and news sites reading comments about your golf potential or your level of play in tournaments?
Social media can be a confidence-crusher for some golfers.
The same media that builds up some golfers will often tear them down.
Then there are all those other people who view social media as an invitation to post their negative views about other golfers and their performance.
While social media can be useful for communicating to a greater number of people, it can detract for a golfer's performance in two ways:
Social media can place unrealistic expectations upon you for future play
Social media can adversely affect your confidence
With smartphones, other people's opinions are at your fingertips. If you subscribe to the opinions of others, your confidence and level of play will surely suffer.
Jordan Spieth, No. 1 in the Official World Golf Ranking, has been the subject of attention since he won Rookie of the Year in 2013.
Spieth has been compared to Tiger Woods and been called a golfing protégé. The media has set the bar high for Spieth but the media has also taken shots at Spieth suggesting he choked at the 2015 British Open.
After winning the 2016 Hyundai Tournament of Champions in commanding fashion, Spieth spoke of the dangers of paying too much attention on the expectations of the media, the negative commentary on social media outlets and how he is coping with it all.
SPIETH: "Just accepting that everything's in the spotlight, everything's going to be judged. Some people aren't going to like your swing, the way you grip the club, it's just everything's under a microscope to, at least in the golf world, and now extending outwards. I guess accepting that and realizing accepting that everyone has their own opinions and, warranted or not. I struggle a bit with social media. Trying to quiet the noise there, just people that just want to make comments that — so I've just gone away from looking at any comments on Instagram, Twitter. People just want to say stuff just to say stuff. You guys see it everywhere. That's the hardest part for us now is actually social media."
It may be difficult to ignore the expectations and comments of others but it is critical for you to not allow the opinions of others to affect your confidence, performance and enjoyment of your sport.
Tips for Managing the Negativity of Social Media:
It may not be easy for you to totally avoid social media but you must arm yourself against the negative social commentary.
First, don't visit the sites that are known to spew out negativity.
Second, remind yourself of the following:
Everyone has an opinion
Opinions aren't facts
Opinions can't hurt your performance unless you buy into them
The only opinion that matters is yours
---

Learn Proven Strategies to Perform with Confidence!
Do you suffer from fragile self-confidence after missed hits, playing with strict or high expectations that undermine confidence or the inability to play freely and relaxed on the course?
If you suffer from lack of focus, low self-confidence or other mental game obstacles on the course, you cant reach your true golf potential…
Successful golfers have learned how to perform with ultimate confidence in competition, so we've developed
The Golfer's Mental Edge
Workbook and CD program to help you do this!
The Golfer's Mental Edge
program includes the top 8 mental training sessions I do with my personal students to help them boost their mental game and improve consistency on the course.
The Golfer's Mental Edge
program includes 8 confidence-boosting CDs, MP3 audio recordings and an 8-session golfer's mental edge workbook.
What are students saying?
"Dr. Cohn has helped me improve confidence and build a consistence pre-shot routine that helps me stay confident, and learn how to play one shot at a time during competition. He also taught me that I don't have to hit every shot perfect to score well."
~Brian Belden, Winner 2003 AJGA Steel City Junior Classic & Marsh Junior at Hawk Pointe
---
Learn Powerful Golf Confidence Strategies!
Are you making any "costly" mental game mistakes during your preshot routine?
Here you'll learn the top mental game strategies your preshot routine must include, 6 ways your mental routine breaks down, why indecision is your worst enemy in golf and more!
What are customers saying?
"Thank you for all your wonderful work. It helped me win one of our PGA section tournaments (a major) last year. Look forward to receiving your e-book on focus and concentration!"
~Todd Sandow, PGA Professional
---
Boost Your Self-Confidence And Focus With Expert Mental Game Coaching!
Master mental game coach Dr. Patrick Cohn can help you overcome your mental game issues with personal coaching.
You can work with Dr. Patrick Cohn himself in Orlando, Florida or via Skype, FaceTime, or telephone. Call us toll free at 888-742-7225 or contact us for more information about the different coaching programs we offer!
What are our students saying?
"Just wanted to say thank you Patrick for the many years of golf psychology training you have given me to help all the players the Good Lord sends my way and all the knowledge you have assisted me with over the years at the various seminars, tapes, and reading material. It is not often enough that we thank those who have played a significant part in our growing as instructors in this great game of ours. You have helped me in many ways and many of my players are that much better because of your influence in me."
~Joe Thiel, PGA Master Golf Professional