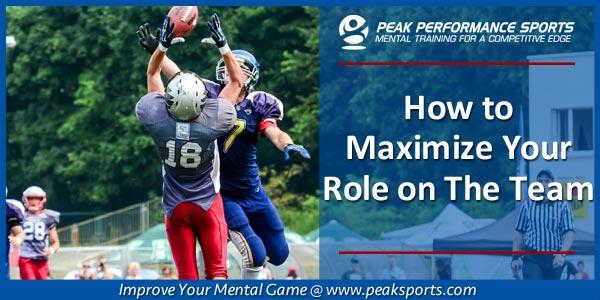 Be A Mentally Tough Athlete
The hardest position on any team is not being the main offensive weapon or defensive specialist.
It is not easy being a second-string player when you put in all those hours of training and practice but don't play come game time…
It can be discouraging, frustrating and confidence-breaking.
Many second-stringers give up because they do not see the immediate fruits of their labor…
They start buying into the notion that they are not as good as the starters. Their poor attitude can keep them on the bench.
You need to be mentally tough, work as hard as or harder than the starters, prove yourself in practice, be patient for your opportunity, be mentally sharp on the sidelines and ready to perform when your time comes.
Being a second-stringer requires a unique mindset that keeps you positive, focused and ready to play at a moment's notice–and that's harder than being a starter.
Cincinnati Bengal cornerback Darqueze Dennard knows firsthand how a positive mindset is needed when being a second-stringer.
Dennard was a 2014 first round draft pick who barely made it onto the field during football games in his rookie season due to the depth of the Bengal roster.
Dennard has found that being a reserve is a difficult and challenging transition going from a college star to the role as an NFL backup.
DENNARD: "You get discouraged, especially when you're used to playing a lot, being 'the man' at your school and just coming into a position with a lot of depth and a lot of veteran guys who have played a lot of football at a very high level and being successful at this level as well."
Dennard partially gave up due to the lack of playing time.
DENNARD: "I got frustrated last year. I gained weight. I started being lazy, wasn't taking care of myself."
Dennard came into training camp this year with a more positive mindset. This season, Dennard committed to: practicing hard, being in game-shape throughout the season, studying how veterans make plays during the games and preparing for when his opportunities arise.
So far, Dennard has made the most of his opportunities on the field by making key tackles and breaking up passes when he has replaced injured starters.
Remember always that you are a part of the team and you can contribute in many ways, including pushing your teammates and making them better.
Stay positive, work hard, take advantage of every opportunity you get on the field, and prepare fully for when your chance to play comes.
Tip for Maximizing your Role on the Team:
First, understand what you can control. You cannot control the decisions your coach makes but you can control your level of effort and focus. Commit to outworking your teammates.
Second, ask your coach what you need to improve to help make a greater contribution to the team. This one question will let your coach know that you are willing to do whatever work necessary to help the team which could translate into more playing time.
Circumstances change all the time in sports. You may be second string today but your opportunity might come tomorrow. You must be ready physically and, more importantly, mentally. Be mentally ready by staying focused on the moment, trusting your skills, and playing with confidence.
---

Learn Confidence-Boosting Techniques!
D you have a negative self-image of yourself as an athlete that stifles confidence?
No matter ow positive you try to be, are you unable to shake the doubt that rushes into your head when you size up your competition?
Have you labeled yourself as a loser, poor closer, or mediocre athlete and these labels keep you stuck in a rut of self-pity and indecision?
If you've answered yes to any of these questions, check out The Confident Athlete!
The Confident Athlete CD and workbook program is a 14-day plan for ultimate self-confidence. This program is ideal for any athlete or coach that wants to discover proven confidence-boosting techniques guaranteed to drastically build self-confidence and improve sports performance.
Learn more about one of our most popular CD programs in The Confident Athlete Series…
The Confident Athlete: A 14-Day Plan For Ultimate Self-Confidence
Check out all of the products in The Confident Athlete Series!
What are customers saying?
"I am a ASP world qualifying professional surfer and after beginning the 'The Confident Athlete' I had an almost instant change in attitude about my own surfing ability and my mindset going into competition. By using the Confident Athlete strategies, my confidence has done a complete 180 degrees. I won a local pro/am a few weeks back, and just had my best result of the year in one the last big events on the world circuit this last week in Brazil! It is my secret weapon!"
~Shaun Burrell, Professional Surfer (Listen to his success story)
---

For Mental Coaches – Add More Value To Your Mental Training Programs!
This workbook series was designed for coaches and mental coaches to use with their athletes.
The Athlete's Mental Edge workbooks complement your existing mental training program. Each of the 15 workbooks in the Athlete's Mental Edge System teaches your athletes a specific mental skill to improve their performance.
For mental coaches, this system is ideal for between session education.
For sports coaches, you'll be able to conduct 15 team seminars using the workbook system.
In the Athlete's Mental Edge workbook system, you receive 15 easy-to-read, practical Mental Edge Workbooks on PDF, as well as 16 coaches' game plan MP3 audio files.
Athlete's Mental Edge Workbook System
What are coaches saying?
"Congratulations on your Mental Edge workbooks. I have been through the package and it looks great!  The MGCP program just got a lot better.  Your workbook program makes it much more tangible and easier to use the mental strategies. This is the missing link in the MGCP program!"
~Bob Simpson, MGCP
---
Boost Your Self-Confidence And Focus With Expert Mental Game Coaching!
Master mental game coach, Dr. Patrick Cohn, can help you or your athlete(s), ages 12 and up, overcome mental game issues with personal coaching.
You can work with Dr. Patrick Cohn himself in Orlando, Florida or via Skype, FaceTime, or telephone. Call us toll free at 888-742-7225 or contact us for more information about the different coaching programs we offer!
What are our students saying?
"I felt the time spent in your seminar was very well organized. The topics were great and you had the coaches communicating in an open atmosphere. Thanks again for your time and effort and I look forward to talking with you in the future."
~Coach Dave Wannstedt, Miami Dolphins