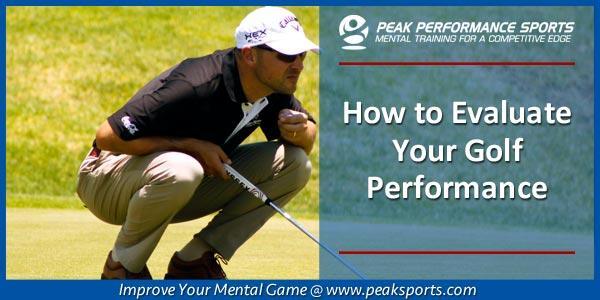 Are You Self-Critical After Poor Play?
Bad days are inevitable if you play golf–it's a part of the game.
But if bad golf days are normal, why is it so difficult for some golfers to accept them?
Many golfers are self-critical after poor play. These golfers become emotionally tethered to their poor play because they endlessly replay, review and evaluate the experience in their mind.
The two worst times to assess your poor performance:
While you are playing – Analyzing your performance will cause you to over-think your play further interfering with the fluidity of your game.
Immediately after your performance – Reviewing your performance will only serve to lower your confidence and keep you mired in a negative and unproductive state of mind.
While in-depth analysis of your performance may help you improve later, being overly-critical is often counter-productive.
How to properly assess a bad day on the golf course:
Accept it… there will be some bad days on the golf course. No matter how talented you are or how great you have been playing, there will be some rounds where the ball seems to have a mind of its own.
Move on… You need to brush it off as a bad day and not a judgment about your ability. By moving on quickly, you can lessen the long-lasting emotional impact of your bad performance.
Be objective… When you do assess your poor performance, be objective. There may be logical reasons for your bad day on the course… Maybe you were sick, didn't get enough sleep the night before, were injured, etc. This is not to say to have excuses in place prior to playing a round. It's more about assessing the totality of your game.
Take time… Take some time to allow your emotions to settle so you can gain some perspective and objectively evaluate your performance.
Get real… Understand that ups and downs are a part of the game. Don't expect to lower your score every time you step on the golf course.
Don't freak out… Resist the urge to over-analyze and overhaul your swing. Maybe your poor play was not technical. Perhaps, all you need to do is "let it go" and ready yourself to play the next tournament.
Tips to Effectively Evaluate a Poor Performance:
Tip #1: Remain calm after a bad day of golfing. You will ruin your confidence if you panic. Take some time before you objectively evaluate your play. Take into consideration all the circumstances of your performance.
Tip #2: Understand that bad days are a part of the game. Accept it and move on. Remember, one performance does not define you.
Successful golfers have learned how to perform with ultimate confidence in competition. We've developed The Golfer's Mental Edge Workbook and CD program to help you do this.
---

Learn Proven Strategies to Perform with Confidence!
Do you suffer from fragile self-confidence after missed hits, playing with strict or high expectations that undermine confidence or the inability to play freely and relaxed on the course?
If you suffer from lack of focus, low self-confidence or other mental game obstacles on the course, you cant reach your true golf potential…
What are students saying?
"The mental side is everything in golf—the ability to see your shot or line and trust that you can hit that shot or putt. Dr. Cohn has helped me trust my game and putting stroke."
~Frank Lickliter, PGA Tour, Nike Tour Winner
"My confidence level has never been higher! I can't tell you how clearly I was able to think during all four rounds of tour-school. The simple game plan you gave me really focused me. My confidence level has never been higher during a tournament. No matter how much pressure was on, I was able to control my thoughts and execute. Thank you Dr. Cohn!"
~Patricia Baxter-Johnson, LPGA Tour
---
Learn Powerful Golf Confidence Strategies!
Are you making any "costly" mental game mistakes during your preshot routine?
Here you'll learn the top mental game strategies your preshot routine must include, 6 ways your mental routine breaks down, why indecision is your worst enemy in golf and more!
What are customers saying?
---
Boost Your Self-Confidence And Focus With Expert Mental Game Coaching!
Master mental game coach Dr. Patrick Cohn can help you overcome your mental game issues with personal coaching.
You can work with Dr. Patrick Cohn himself in Orlando, Florida or via Skype, FaceTime, or telephone. Call us toll free at 888-742-7225 or contact us for more information about the different coaching programs we offer!
What are our students saying?
"WOW!!! What a week I had. I was able to perform with a confidence that allowed my style to shine through–no more entering the arena with that "deer in the headlights" look or feeling. I stopped evaluating myself while I was performing, and I actually left the arena after my patterns feeling like I had experienced a lot of fun. Thank you so much."
~Julia Dreyer, National Champion Equestrian