Sports Confidence Buster #8
Confidence is a must if you or your athletes want to perform at their peak. However, confidence can be very fragile for some athletes. Too often, after athletes miss a shot, drop a ball, mess up a tumbling pass or make some other mistake, they judge their performance and dwell on the mistake over and over in their mind.
Judging your performance and holding onto mistakes can hurt confidence, sometimes to the point where you play it safe and avoid making another shot or attempt. If you want to be a consistent performer, you need to solve the confidence riddle.
Remind yourself that the more you miss, the greater the chance of making the next one! Avoid analyzing or judging the mistake as this leads to a lack of trust in your shot or overthinking. Instead, focus on the next play or chance.

---
Learn Mental Game Strategies to Boost Your Confidence in Sports!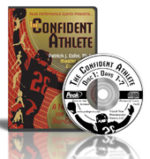 If you're an athlete who struggles with self-doubt, loses confidence, or cant take "practice confidence" to competition, The Confident Athlete is for you!
Self-confidence is what separates champion athletes from the rest of the competitors…
You can tap into my knowledge and experience to learn how to bring ultimate confidence to competition!
The Confident Athlete CD and workbook program consists of 2 audio CD's that include 14 days of confidence fueling exercises and a simple to follow workbook that guides you through the 14 days, helps you apply the strategies and customizes the exercises to your personal needs.
Remember, confidence is a choice you make. You have to make a conscious effort to proactively seek confidence building thoughts and behaviors. Confident Athletes are proactive when it comes to confidence!
Learn more about one of our most popular CD programs in The Confident Athlete Series…
The Confident Athlete: A 14-Day Plan For Ultimate Self-Confidence
Take control of your mindset and performance today!
What are mental game customers saying about our confidence boosting program?
"I am a ASP world qualifying professional surfer and after beginning the 'The Confident Athlete' I had an almost instant change in attitude about my own surfing ability and my mindset going into competition. By using the Confident Athlete strategies, my confidence has done a complete 180 degrees. I won a local pro/am a few weeks back, and just had my best result of the year in one the last big events on the world circuit this last week in Brazil! It is my secret weapon!"*
~Shaun Burrell, Professional Surfer
(Listen to his success story)
"We are amazed at how much 'The Confident Athlete' program has helped my niece play her best tennis during matches. She literally made it to the farthest round of a tournament (semifinals) after finishing the CDs/workbook. We are going to do all 3 in the series."*
~Jason Bourguignon, Uncle
"I bought The Confident Athlete and I have to tell you it is one of the best investments I've ever made in sports (and I've made quite a lot!)" I am a top amateur racquetball player. I have multiple state and regional titles, and 2 national titles. Your approach and ideas have snapped me out of a slump that has lasted way too long. The sport is fun again and I am playing like my old self for the first time in a long time!"*
~Mark Davis