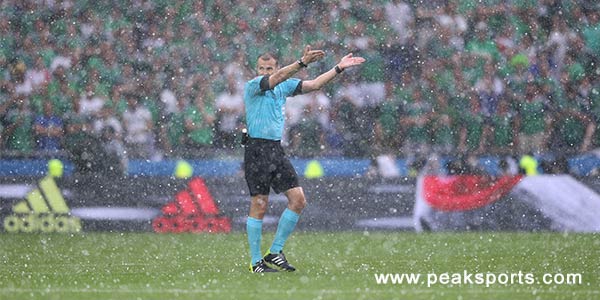 Preparing to Compete in Poor Weather
Do you like competing in the blistering cold? What is your attitude when competing in strong winds?
On rainy days, do you find it difficult to focus during competition and mentally concede that you will play poorly?
Too often athletes allow poor conditions to detract from their performance.
For example, some tennis players allow hot temperatures to mentally take them out of matches early in the competition…
Some football players dread playing in the cold… Some golfers feel they cannot putt well on wet greens… Some soccer players play overly cautious in rainy conditions.
Bad weather is 100 percent out of your control. You can't control field conditions, excessive temperature, humidity, precipitation or wind.
Often, the team or competitor that succeeds in tough weather conditions is the athlete that is mentally tough.
Success requires mental toughness, especially when competing in bad weather. The mentally tough mentality isn't just dealing with the cold, rain and wind, it's using the bad weather to your advantage.
How do you use bad weather to your advantage?
Think of it in these terms… Many athletes don't like competing in extreme conditions. These athletes might even think, "Today is going to stink. The weather is nasty and it is only going to get worse." Their mentality beats them before the competition or game even starts.
Knowing that most athletes do not look forward to competing in bad weather conditions, if you can maintain a positive mindset in tough conditions, you gain an advantage.
If you tell yourself, "No matter how challenging the weather is, I will give 100 percent effort and focus." If you repeat to yourself, "I love competing in these conditions." If you have the mentality that bad weather conditions are nothing other than an inconvenience, you give yourself a big competitive advantage.
The key is to set the tone early in a competition. From warm-up onward, it's important to have a mentally tough mindset that nothing will get in the way of you going all out on every play.
Bad weather is an understatement when it came to the New England Patriots – Dallas Cowboys game in the middle of the 2019 season. The temperature was frigid, the ground was hard, the field was wet and slick, the ball was wet, the winds were gusty…all contributing to very challenging playing conditions.
Even though the conditions were the same for both teams, the Patriots' mentally tough mentality proved to be the difference-maker in New England's 13-9 victory.
In a post-game interview, New England Patriots free safety Devin McCourty talked about the Patriots' mindset heading into the game.
McCOURTY: "Any time we play in any type of [bad] weather game, we don't budge, cause when we come in here on a Wednesday, Thursday or Friday [practice], [Head Coach Bill Belichick] stands up here and he says whatever the weather is, get your stuff and put it on because we're in it."
"So we practice in all this. We've had rain days, really cold days. So we practice in all this. So when we get dressed and we get ready to go out there, our mentality doesn't change. We are out there to play football and try to dominate. And I think everyone has that mentality as a group. So I think it enables us to go out there and execute and try to play at a high level."
As you can see, mental toughness gives a distinct advantage to the athlete or team that is mentally prepared and mentally tough.
The Mental Edge in Tough Weather Conditions:
Embrace the challenge of playing in tough conditions. You gain the mental edge over the competition when you can embrace harsh weather conditions especially when your competitors are frustrated or upset with the conditions.
If you want to respond with mental toughness, reframe your thinking about the challenge. What can you love about playing in tough conditions?
Also, when training, practice in challenging situations that replicate possible competitive circumstances. This way you know how to handle it better.
When you train in tough conditions, the more prepared you will be to respond well when you face those challenges in competitive situations.
---
Learn Mental Game Strategies to Improve Composure in Sports!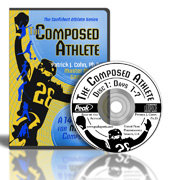 If you're an athlete who wants to learn how to stop performance anxiety quickly, be poised, calm and in control during those "critical moments", learn more about The Composed Athlete!
Powerful strategies for learning a composed mindset can be developed, but you must first strip away the mental ball and chains that prevent you from having instant composure when you need it.
How much better would you perform if you have total confidence and composure to perform your best in crunch-time?
The Composed Athlete CD and workbook program consists of 2 audio CD's that include 14 days of composure boosting exercises and a simple to follow workbook that guides you through each of the 14 days, helps you apply the strategies, and customizes the exercises to your personal crunch-time challenges and coping with pressure.
Learn more about one of our most popular CD programs in The Confident Athlete Series…
The Composed Athlete: A 14-DAy Plan For Maximum Composure
Maximize your composure today!
What are Peak Performance Sports customers saying about our confidence boosting program?
"Your Strategies Work For Students Too"
"Thank you so much for taking the time to work with our team while we were down in Florida. The tips you gave about relaxation and releasing tension before we bat or do anything was very beneficial to me. I find that I even use it during my classes at school."*
~Ann Miller, Softball player
"No More Negative Thoughts"
"I am a PGA Professional and wanted some ideas to help my students, but my own game has improved! I think I will shoot 69, negative thoughts have vanished, and my self-talk and confidence has improved tremendously. I will be referring my students to your web site."*
~Bill Allen, PGA Pro