How to Stay Focused to Finish Strong
Have you ever finished a competition and had regrets about your lack of effort?
It's one thing to lose, but it is a bitter pill to swallow when you lost and know you didn't give it your all.
When you lose, it's not always your fault. Many contributing factors impact the outcome of a game. Officiating, the level of performance from your opponents, competition conditions, and injuries are just a few factors that affect the outcome of a competition.
The only factors that are fully under your control are your attitude, your effort, and your focus.
When you give it your all, it is easier to accept defeat or an unfavorable outcome as opposed to when you held back or mentally gave up.
You hear the same message from coaches all the time in every sport:
Basketball coaches tell their players, "Leave it all on the court… Chase down balls. Don't concede any points. Push through fatigue."
The expression "leave it all on the court" refers to giving it your all: all your focus and all your effort until the very last second of a competition.
Giving it all you've got doesn't guarantee victory, but it does lead to performing your best and having little regret over the result.
Why do some athletes give less than their best?
Fear of making mistakes or being embarrassed for not performing well.
Anxiety and playing tight, nervous, and tense.
Being frustrated with mistakes and tanking.
Nagging injuries.
When you have fear, anxiety or a lack of focus, you will bring into fruition the exact results you are trying to avoid.
Not only will you feel bad about the loss, but you will feel even worse if you gave less than your all.
Championships are won or lost by the level of an athlete's effort and focus.
In Game 5 of the NBA Finals, the Los Angeles Lakers were just one game away from winning the NBA Championship against the Miami Heat. Miami guard Jimmy Butler was not willing to concede the championship.
Instead, Butler led the Heat to a season-saving 111-108 victory over the Los Angeles Lakers and finished the game with 35 points, 12 rebounds, 11 assists, 5 steals and a blocked shot.
Butler played in all but 48 seconds of the game. Butler was drained physically and mentally during the last minutes of the game but continued high effort until the final whistle.
BUTLER: "I left it all out on the floor along with my guys and that's how we're gonna have to play from here on out. That's what really, really, really great players do. But we ain't backing down. We ain't shying away."
Giving it your all is a mindset that you consciously choose before a competition. It is the mindset of not backing down, not shying away and "leaving it all out on the court" so you can rise to the occasion and produce your best performance.
How to Compete with a "Giving It your All" Mindset:
Sometimes, to fight through fatigue or other challenges, you need to want to meet your goals more than giving in to it.
In these instances, you can use self-talk to help you keep going such as "Finish strong," "Go for it," or "No regrets."
Battling unit the end of a competition and giving it your all is a mindset that you choose and produces your best.
Learn Proven Sports Psychology Strategies to Improve Basketball Mental Toughness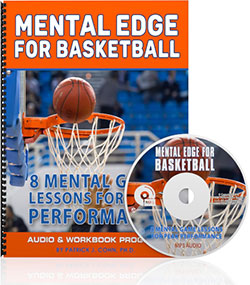 Are you (or your athletes) performing with less confidence in games than in practice? Do you lose confidence easily if you make a turnover or miss your first shot? Do you become so frustrated with your performance that you can't think about the next play?
If you answered yes to these questions, it's a good bet that your mental game might prevent you from performing your up to your ability in games. How much time do you work on your mindset for basketball compared to the time you spend working on your physical skills?
If you're ready to improve your mental toughness for basketball and perform with stable self-confidence in games, check out:
The Mental Edge For Basketball: 8 Mental Game Lessons for Peak Performance