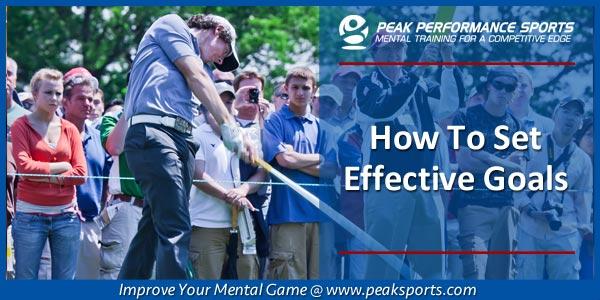 Dreams vs. Goals In Golf
What were your goals for last golf season? Did you accomplish what you set out to do?
Many golfers talk about their goals for the season yet are consistently disappointed after each season because they feel they didn't reach their dreams.
Having a dream is not the same as having a goal. Every golfer has dreams but few take the time to sit down, write out specific goals and make a plan to achieve them.
Dreams define no specific target and provide no direction, instruction or feedback.
Dreams are passive images while effective goal setting includes road maps to achieve certain objectives.
If you want to emulate elite golfers, follow the example of Rory McIlroy. At the start of the season, McIlroy wrote down his seasonal goals on the back of his boarding pass to Abu Dhabi.
After winning the DP World Tour Championship and the Race to Dubai crown to finish his season on a high note, McIlroy talked about his seasonal goals.
MCILROY: "There were a couple of goals [for this season], I always put down a couple of goals that are not golf related, just things in my life that I would like to do better, as a person. There are a couple things I've been able to tick off that list. But on the golf side, I guess just one, one thing I was able to tick off, which was this [Dubai Crown]. Obviously I wanted to win majors. I wanted to improve in certain areas of my game, and didn't quite do that, but these things happen."
McIlroy has several helpful ideas on goal setting:
Write your goals down – Written goals are similar to signing a contract. This can increase your commitment to accomplishing your objectives.
Create some personal goals – Golf should not be your entire life. Being well-rounded reduces the amount of pressure you feel to succeed.
Celebrate your accomplishments – Give yourself credit for taking the necessary steps to reach your goal.
Make some process goals – Identify areas of your game (putting, chipping) that need improvement and can help propel you to greater accomplishments.
Adjust your goals when necessary – Unforeseen incidents happen, such as injuries. You need to be able to be flexible with your goals and roll with the punches. Equally as important, McIlroy understands that it is necessary to take some time off to assess your season.
Your end-of-the-season evaluation will provide essential feedback when creating next season's goals.
MCILROY: "I really feel, even though I've had a few weeks off over the summer, I need that off period just to reflect on things, re-evaluate how I want to go forward."
Tip for Setting Effective Seasonal Goals
Many golfers attempt to set too many goals for the season. Too many goals will divide your focus and effort in too many directions.
Choose 1-3 specific goals and create a plan of attack on the steps you need to take to accomplish your goals.
Anyone can dream but successful golfers plan and go after their goals.
---

Learn Proven Strategies to Perform with Confidence!
Do you suffer from fragile self-confidence after missed hits, playing with strict or high expectations that undermine confidence or the inability to play freely and relaxed on the course?
If you suffer from lack of focus, low self-confidence or other mental game obstacles on the course, you cant reach your true golf potential…
Successful golfers have learned how to perform with ultimate confidence in competition, so we've developed
The Golfer's Mental Edge
Workbook and CD program to help you do this!
The Golfer's Mental Edge
program includes the top 8 mental training sessions I do with my personal students to help them boost their mental game and improve consistency on the course.
The Golfer's Mental Edge
program includes 8 confidence-boosting CDs, MP3 audio recordings and an 8-session golfer's mental edge workbook.
What are students saying?
"I would like to thank you again for our last mental coaching session, which did offer me yesterday my personal best round ever! On a golf course where I had never scored better than 77, I scored a 73 in competition. I cannot believe the incredible inner work this simple session has produced on me and I would like to thank you again for that."
~Emmanuel Grizaud, Amateur Golfer
"I want to tell you how much I appreciate all your help. You have made an enormous amount of difference in my game. I feel much better because of your help; I don't feel the tension like I did before. You should feel very good about what you do for people—it is truly a gift!. I know my students and myself have benefited enormously from Dr. Patrick Cohn's teaching."
~Jim Dahline, PGA Professional
---
Learn Powerful Golf Confidence Strategies!
Are you making any "costly" mental game mistakes during your preshot routine?
Here you'll learn the top mental game strategies your preshot routine must include, 6 ways your mental routine breaks down, why indecision is your worst enemy in golf and more!
What are customers saying?
"Thank you for all your wonderful work. It helped me win one of our PGA section tournaments (a major) last year. Look forward to receiving your e-book on focus and concentration!"
~Todd Sandow, PGA Professional
---
Boost Your Self-Confidence And Focus With Expert Mental Game Coaching!
Master mental game coach Dr. Patrick Cohn can help you overcome your mental game issues with personal coaching.
You can work with Dr. Patrick Cohn himself in Orlando, Florida or via Skype, FaceTime, or telephone. Call us toll free at 888-742-7225 or contact us for more information about the different coaching programs we offer!
What are our students saying?
"I went on to the putting green right after receiving your mail. What a great feeling of freedom. No tense at all, smiling and more consistent than ever before. I have a very low handicap and of course I have great rounds during the years, but you have taken me to a new level by curing the yips. I have just read your report again, and now I get the point in your comparing with throwing darts. I am very grateful – if you visit Denmark I will invite you out for dinner."
~Søren Meinertsen