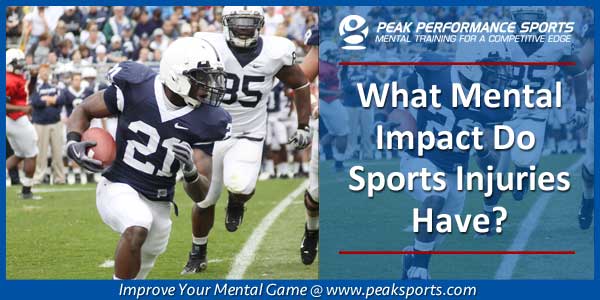 Psychology Of Sports Injuries
Injuries are part of all sports. In fact, research conducted by Safe Kids Worldwide estimated that 2.6 million athletes, ages 19 and under, are seen in emergency rooms for injuries related to sports and recreation each year.
These numbers don't even include the injuries treated by family physicians or injuries that were less severe (pulled muscles, minor swelling, etc.) and not reported.
Of course, the physical challenges of an injury are difficult to manage, but the psychological impact may be a bigger obstacle for many athletes.
Think of an injury you had that affected your ability to play the sport you loved… Did you have any of these questions in your head?
Will this injury affect my ability to achieve my goals?
When will I be able to play again?
Will I be able play again?
If I get back to action, will I ever be the same athlete?
How much confidence will I lose because of this?
Dealing with the loss of participation, arduous physical rehab, fear of re-injury, return to play and the attempt to compete at your previous level of performance are the difficult challenges all injured athletes face.
Another major issue for injured athletes is how to maintain confidence: How to find the confidence you had before the injury and how to have confidence in a body part that may be less than one hundred percent.
Jaylon Smith, former Notre Dame star linebacker, understands the heartbreak of injury. Smith was projected to be a top-five pick in the 2016 NFL draft before an injury at the Fiesta Bowl caused him to have knee reconstruction surgery.
With Smith unlikely to play at all in 2016, his draft stock plummeted until he was selected in the second round by the Dallas Cowboys.
The questions swirl about Smith's future… Will he ever fully recover? Will he be forced into early retirement? If he does return to the game, will he be the same defensive force as he was in college?
Smith has kept his confidence high by focusing on the things he can control: his training, his rehab and his attitude.
SMITH: "I don't have time to doubt myself. Whatever happens, it's going to happen. But for me, a positive attitude and constantly putting work in to get better – that's where I'm at, controlling what I can control."
Smith has the knack for staying focused on a strong recovery, which keeps him positive and mentally strong.
SMITH: "I'm 20 years old. I'm young. The nerve will come back. It's just a matter of time. No one can rush it. Our world is so like now, now, now. 'Will Jaylon play in '16?' I may play. I may not play. It's a possibility for everything."
Be prepared to manage the mental game of injury and rehab as it's not easy for any athlete.
If you can manage your emotions about injury, keep your confidence high, you can speed up the recovery process and become a mentally stronger athlete.
Mental Strategies for Coping with Injuries
If you want to cope with the mental impact of injury, you need to do a few things:
Stay positive. Setbacks are inevitable but comebacks are a choice.
Mentally and physically prepare yourself for the next step in the process. Do not discount the impact of mental factors in the recovery process.
Focus on how you'll recover and be stronger than before. Resist the urge to feel sorry for yourself or catastrophize about the future.
---
Boost Your Self-Confidence With Mental Game Coaching!
Master mental game coach, Dr. Patrick Cohn, can help you or your athlete(s), ages 12 and up, overcome mental game issues with personal coaching.
You can work with Dr. Patrick Cohn himself in Orlando, Florida or via Skype, FaceTime, or telephone. Call us toll free at 888-742-7225 or contact us for more information about the different coaching programs we offer!
What are our students saying?
"I felt the time spent in your seminar was very well organized. The topics were great and you had the coaches communicating in an open atmosphere. Thanks again for your time and effort and I look forward to talking with you in the future."
~Coach Dave Wannstedt, Miami Dolphins
---

For All Athletes – Learn Confidence-Boosting Techniques!
D you have a negative self-image of yourself as an athlete that stifles confidence?
No matter ow positive you try to be, are you unable to shake the doubt that rushes into your head when you size up your competition?
Have you labeled yourself as a loser, poor closer, or mediocre athlete and these labels keep you stuck in a rut of self-pity and indecision?
If you've answered yes to any of these questions, check out The Confident Athlete!
The Confident Athlete CD and workbook program is a 14-day plan for ultimate self-confidence. This program is ideal for any athlete or coach that wants to discover proven confidence-boosting techniques guaranteed to drastically build self-confidence and improve sports performance.
Learn more about one of our most popular CD programs in The Confident Athlete Series…
The Confident Athlete: A 14-Day Plan For Ultimate Self-Confidence
Check out all of the products in The Confident Athlete Series!
What are customers saying?
"The books/CD's in 'The Confident Athlete' are very good. My swimmer has responded very favorably to them, in fact, her father purchased all three programs. You have done a great job consolidating and simplifying the myriad of ideas in sports psychology."
~Nick Baker, Peak Performance Swim Camp
"My son finished the entire Confident Athlete Program. The CD Program helped TREMENDOUSLY.  He used it to keep positive thoughts flowing.  He was able to focus on his fight instead of on his negative thoughts.  He fought at his very best.  We are thankful to God for leading us to your web site. The CONFIDENT ATHLETE was perfect."
~Wanda, Sports Parent
---

For Young Athletes and Parents – Learn More About How to Help Kids Improve Confidence Quickly!
We've got a great program for you called "The Confident Sports Kid: A 7-Day Plan for Building Ultimate Self-Confidence."
The Confident Sports Kid is a 7-day program for sports parents and kids to boost young athlete's performance, happiness and success… in sports and life!
The Confident Sports Kid is two programs in one. There's a manual and CD for parents/coaches, and a workbook/CD for young athletes.
Packed with mental strategies that you and your kids can start using immediately, this program teaches your athletes how to identify confidence busters, proactively deal with them, manage expectations that undermine confidence, and mentally prepare to stay confident when faced with adversity.

What's more, our program teaches you, as sports parents and coaches, how you may be hurting your kids' confidence and gives you instructions for changing your behavior in ways that will improve your athletes' performance, confidence and enjoyment.
Learn more about one of our most popular CD programs in The Confident Sports Kid Series…
The Confident Sports Kid: A 7-Day Plan for Building Ultimate Self-Confidence
Check out all of our products in The Confident Sports Kid Series!
What are parents and coaches saying about our program?
"I just listened to 'The Ultimate Sports Parent Program' on a drive back from North Carolina. Every parent should be required to listen to it!  I thought it was great. Thank you."
~Rita, Sports Parent
"Dr. Patrick Cohn and Lisa Cohn are to be congratulated! Together, they offer a wealth of knowledge, information, and practical mental tools for sports parents on the substantial "mental game" challenges and pressures facing today's young athletes."
~Marc D. Anderson, LCSW, MGCP, Mental Game Coach
---

For Mental Coaches – Add More Value To Your Mental Training Programs!
This workbook series was designed for coaches and mental coaches to use with their athletes.
The Athlete's Mental Edge workbooks complement your existing mental training program. Each of the 15 workbooks in the Athlete's Mental Edge System teaches your athletes a specific mental skill to improve their performance.
For mental coaches, this system is ideal for between session education.
For sports coaches, you'll be able to conduct 15 team seminars using the workbook system.
In the Athlete's Mental Edge workbook system, you receive 15 easy-to-read, practical Mental Edge Workbooks on PDF, as well as 16 coaches' game plan MP3 audio files.
Athlete's Mental Edge Workbook System
What are coaches saying?
"I am impressed with the willingness and openness of Dr. Cohn to share all of his assets (intellectual, products, etc.) with the MGCP students. You have developed an incredible model/package for mental training. Even though we are paying for your service, you are passing on a legacy built on your contribution to the world of sports. Thank you for that."
~Tony Melito, MGCP