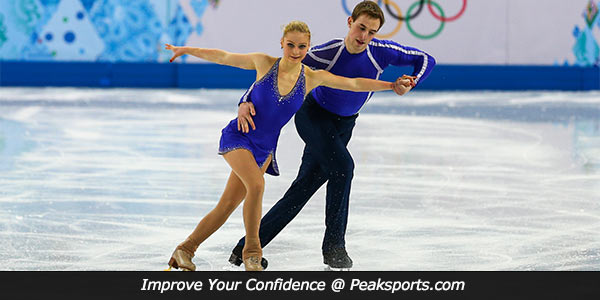 Focus on Your Strengths
Are you struggling with confidence as a figure skater? Do you feel other skaters are passing you by as they perform bigger skills and jumps in point value?
Figure skating is a sport of both power and finesse.
Yet many skaters are overly focused on the power aspect of the sport, such as performing high-value jumps. When you see other skaters performing triple jumps and you feel you are below the curve on these technical skills, your confidence will suffer.
When you compare yourself to skaters performing advanced jumps, you will feel "less than adequate."
Comparison is the enemy to confidence and success. When you compare yourself to skaters starting from higher point values, it is demotivating. You wonder, "Why can't I land a triple? I will never be as good as…"
You become anxious before you even take the ice. You feel the need to pull off the "perfect" routine to score close to skaters performing higher value elements.
When you are anxious, performing a clean routine is even more difficult. Focusing on other skaters prevents you from performing your best and hurts your confidence.
Comparison detracts from work ethic. When you feel "not as good as," your work habits suffer. When you feel you are not as talented as another skater, you are less motivated to work hard in practice and take risks to develop new skills.
The key to overcoming the comparison trap is to put the focus back on you. Confidence is built by emphasizing your talents, strengths and skills. You can still work on improving, becoming stronger and working on higher-level jumps. The focus should be on you and comparing yourself to how you performed yesterday.
Focus on Improving Yourself
When you focus on yourself and strive for continuous improvement, you build confidence, increase motivation and improve at a faster rate. When you skate your routines, you exude confidence through your posture and facial expressions. You score higher as a result.
A finessed, sound, energetic and clean routine will score higher than a sloppy, mistake-ridden, advanced-skill routine all the time.
Jason Brown, who placed sixth at the U.S. Championships last Olympic season, was in third place after the short program at the 2021 U.S. Figure Skating Championships. Though Brown's performance was clean and technically sound, he knows he needs to add quads to compete at the highest level.
Brown discussed his thoughts on his place in a sport dominated by quadruple jumps.
"I wish I could be that person that can do multiple quads and just [crush] it out there. I [crush] it in a different way, but I'm still obviously pushing my technical content as well, especially leading into the Olympic year. At the same time, I'm trying to find that balance where I don't lose the integrity of the programs and the spark that makes my skating so special."
Just like Brown, you can crush it in different ways. You should focus on your strengths, whether it is your finesse, speed on spins, tight positions or energy.
When you focus on your strengths, it will show up in your score.
How to Side-Step the Comparison Trap:
In practice, compare yourself to your previous week of practice. Work to sharpen your strengths and add new skills and jumps.
During competition be the best version of yourself and think about your strengths. Focusing on what you have, your strengths, will lead to your best performances.
---
Discover Mental Strategies For Peak Performance!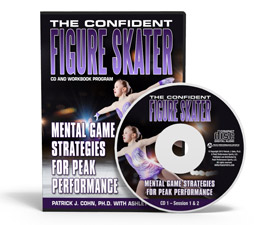 You (or your athlete) might be the most skilled figure skater and train harder or longer than anyone else, but if you can't take your practice performance to competition, you simply will not reach your true potential in figure skating.
Learn the top 8 mental game lessons to improve focus, composure, and confidence!
The Confident Figure Skater: Mental Game Strategies For Peak Performance
Discover proven mental game secrets to unstoppable confidence in practice and competition.
Figure Skaters: Get the mental edge by learning how to take control of your confidence, mentally prepare for competition, and perform with composure under pressure.
Coaches: Boost your figure skater's confidence using simple, proven mental strategies.
Parents: Help boost your athlete's performance. Don't let their mind hold them back any longer.
Mental Coaches: Learn a proven system for helping your athletes boost mental toughness.
The Confident Figure Skater: Mental Game Strategies For Peak Performance
---
Improve Mental Toughness in Figure Skating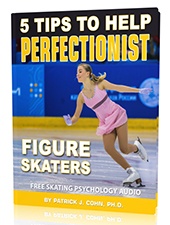 Discover 5 Tips to Help Perfectionist Figure Skaters
Download our figure skating mental training audio program: 5 Tips to Help Perfectionist Figure Skaters
You learn:
The top challenges for perfectionist figure skaters
Why perfectionist skaters under perform in competition
5 tips to help figure skaters manage perfectionism
Download our free figure skating mental training audio program: 5 Tips to Help Perfectionist Figure Skaters
---
Boost Your Self-Confidence And Focus With Expert Mental Game Coaching!
Master mental game coach Dr. Patrick Cohn can help you overcome your mental game issues with personal coaching.
You can work with Dr. Patrick Cohn himself in Orlando, Florida or via Skype, FaceTime, or telephone. Call us toll-free at 888-742-7225 or contact us for more information about the different coaching programs we offer!
What are our mental coaching students saying?
"Your work with my son Taylor has really helped him perform better under pressure. Your coaching is so good that I don't want our competitors to find out about our secret weapon: Dr. Cohn!"
~Kevin Johnson, Taylor's Father
"It was amazing!!! Before the show, I really felt like I was becoming the part. I was oddly calm, which concerned me because I thought my nerves might kick in on stage! But, they didn't! I stayed focused in each moment, and remained calm, and actually did the difficult tricks better than I ever have! My coaches were all so proud of me and the one who I know the best was marveling at my calm, poised manner throughout the ballet. They said it seemed like I was doing it for the 15th time, I looked so comfortable. This is the result of my work with you! You gave me the tools to tackle this huge mountain of a role, step by step! I am beyond happy!"
~Professional Ballerina