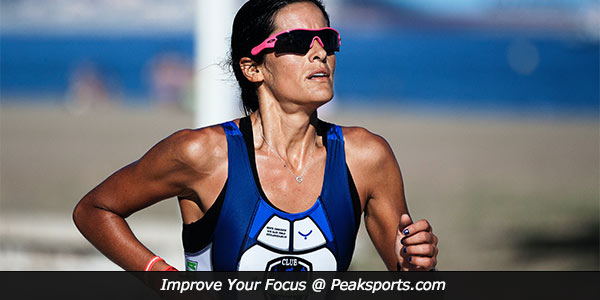 Develop a Growth Mindset
Are you going through a long-term slump? Are you holding back or playing tentatively due to your performance slump?
Slumps are aggravating, frustrating and unnerving. Sometimes, a slump in one area of your game affects your entire game, further compounding the issue.
For example, you are in the middle of a long slump and each mistake in competition causes you to call into question your abilities as an athlete. You fear continued misses, losses and mistakes.
You don't want to embarrass yourself or be the reason your team loses. So, you shy away from opportunities… You stop taking shots… You don't want to take center stage… You perform tentatively.
You overthink everything before, during and after a competition or game. You break down every aspect of your performance and criticize yourself harshly. You lose confidence, sell yourself short and think, "I am not a good athlete." You make a case against yourself by highlighting every mistake you ever made which keeps you stuck in a rut.
How can you break out of a slump?
You can shorten the time you are stuck in a performance slump by changing your focus…
Change Your Focus
First, focus on the process, not the outcome. A basketball player should still shoot without thinking about the results of the shot… A hockey player in a slump should continue to look for opportunities to score instead of fearing missing a shot.
Second, focus on other ways you can affect the game or contribute to your team. A basketball player in a shooting slump can look for ways to contribute to his team defensively. A hockey player in a performance slump can help raise the energy of his team by being aggressive on the boards.
Finding ways to contribute to your team will improve your confidence and relieve some of the anxiety that contributes to your performance slump.
Golden State Warriors forward Kelly Oubre started out the 2020-21 season in a slump: 0-for-17 from 3-point range and 0-for-31 on non-dunk attempts.
Teammate Steph Curry, one of the best 3-point shooters in NBA history, has been in slumps himself and had a bit of advice for Oubre and other players in slumps.
CURRY: "No matter how [Oubre] shoots the ball, he can always find another way to impact the game and eventually, he's going to figure it out… He can't lose confidence. He has to take those shots. But he also has to impact the game in other areas that athletically he can do… that's all you ask for from a guy going through a shooting situation like this until he turns it around."
Furthermore, Curry talked about the need to continue to look for open shots and take your shots without overthinking.
CURRY: "The last thing you can do is just stop shooting no matter how frustrated you get."
Breaking out of a slump requires commitment to a growth mindset. A competitive mindset encompasses looking for ways to contribute, making the most of your opportunities and continuing to push forward no matter the circumstances.
A growth mindset helps you maintain stable confidence along with the knowledge that you will get back on track soon enough.
How to Break Out of a Slump:
First, don't start each game by defining yourself as being in a slump, as this will become a self-fulfilling prophecy.
Instead of worrying about parts of your game that are not working, identify 1-2 ways that you can contribute to your team. For example, you might focus on helping your team create scoring opportunities, setting the tone by hustling, etc.
Look at every game as a new opportunity for success and growth, rather than a continuation of your slump.
---
Related Sports Psychology Articles
*Subscribe to The Sports Psychology Podcast on iTunes
*Subscribe to The Sports Psychology Podcast on Spotify
Download a free sports psychology report to improve your mental game!
Learn more about our one-on-one mental game coaching.
---
Learn Mental Game Strategies to Improve Composure in Sports!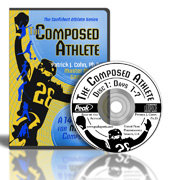 If you're an athlete who wants to learn how to stop performance anxiety quickly, be poised, calm and in control during those "critical moments", learn more about The Composed Athlete!
Powerful strategies for learning a composed mindset can be developed, but you must first strip away the mental ball and chains that prevent you from having instant composure when you need it.
How much better would you perform if you have total confidence and composure to perform your best in crunch-time?
The Composed Athlete CD and workbook program consists of 2 audio CD's that include 14 days of composure boosting exercises and a simple to follow workbook that guides you through each of the 14 days, helps you apply the strategies, and customizes the exercises to your personal crunch-time challenges and coping with pressure.
Learn more about one of our most popular CD programs in The Confident Athlete Series…
The Composed Athlete: A 14-DAy Plan For Maximum Composure
Maximize your composure today!
What are Peak Performance Sports customers saying about our confidence boosting program?
"Your Strategies Work For Students Too"
"Thank you so much for taking the time to work with our team while we were down in Florida. The tips you gave about relaxation and releasing tension before we bat or do anything was very beneficial to me. I find that I even use it during my classes at school."*
~Ann Miller, Softball player
"No More Negative Thoughts"
"I am a PGA Professional and wanted some ideas to help my students, but my own game has improved! I think I will shoot 69, negative thoughts have vanished, and my self-talk and confidence have improved tremendously. I will be referring my students to your website."*
~Bill Allen, PGA Pro