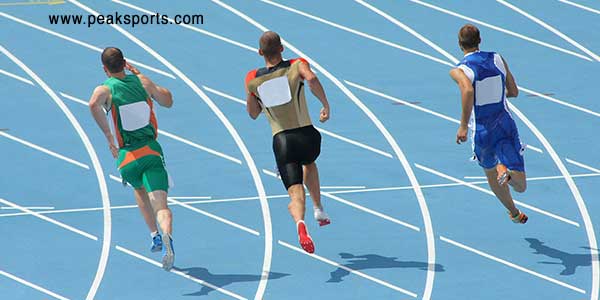 How Athletes Can Manage Expectations
Pressure is a normal part of sports for athletes. In fact, you would be hard pressed to find athletes not make some type of reference about pressure they felt.
As you become more competitive, pressure seems to increase and, for many athletes, that can be an overwhelming aspect of the athletic experience.
Athletes respond to pressure in different ways. That is, pressure has different sources, is perceived differently, and affects athletes in different ways.
Let's examine one type of pressure, the pressure to perform when your teammates are heavily relying on you…
This type of pressure can be experienced by one of the more experienced players on the team, an athlete who enters a contest late in the game, or an athlete who just moved into the starting role.
It can also be an athlete anchoring a relay, an athlete who is expected to score high in an event to help out their team, or even a player who is taking the last shot in a game.
For players in these different types of circumstances, they can feel as if they need to carry their teams on their back or outperform previous performances.
Most of this pressure is generated from the perception of excessively high expectations, which take an athlete out of their game.
But guess what? An athlete who feels the weight of excessive expectations and the pressure to perform tries to do too much. This leads to trying to be perfect and avoid mistakes.
Anyway, the pressure to perform can be heightened for athletes in the playoffs…
For example, Boston Celtic Kyrie Irving is considered one of the better players in the NBA and the best player on his team was asked if he felt an extra burden after losing Game 2 in their second-round playoff series to the Milwaukee Bucks,123-102.
Irving responded with a resounding "No!"
IRVING: "There's no extra burden. This is what I signed up for. This is what Boston traded for me. Being able to go back, get back in the trenches, get ready for another battle on Friday, that's what you live for. Basketball is fun when it comes like this and you have to respond, and this is the type of basketball you want to be playing this time of year"
Irving, who only scored nine points and had four assists in Game 2, bounced back with 29 points and six assists in Game 3. Interestingly enough, Irving averaged 33 points per game and 6.9 assists during the regular season.
The reason those numbers are important is because it signifies that Irving played within his game and resisted the urge to try to do too much.
Irving had a sound perspective when it comes to this playoff series.
IRVING: "It's the playoffs. We're playing against a great team. They're No. 1 in the Eastern Conference for a reason. They finished the regular season strong, came out and did what they were supposed to do in the playoffs… I've been in too many battles going back and forth to get too high or too low… This one would have been great to [win], but we didn't so now we go back home and reset our mindset going in and just have fun playing the game of basketball. Game 3, I'm looking forward to it."
But make no mistake about it, you can't heap expectations upon yourself and perform freely. It's big ask to think you need to hoist your team on your back and carry them to victory.
Performing under pressure is a matter of staying focused on your game and playing within yourself.
---
Coping with Pressure When Expectations are High:
Here's the deal: Performing under pressure requires that you "play within yourself" no matter if it is regular season, playoffs or a championship competition.
In order to cope with perceived pressure, reflect on competitions or games that you performed well and examine the mindset that you carried into that competition.
What were your expectations leading up to that competition? Most of the athletes I coach on the mental game, perform their best when they don't carry high expectations into the competition.
One key to coping with pressure is to not care about what others think about your game when performing, such as parents, coaches, fans, and friends.
This way you can let go of the expectations you perceive from others and focus on execution of the game plan, one play at a time.
Learn Mental Game Strategies to Boost Your Confidence in Sports!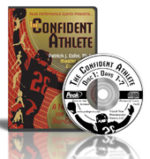 If you're an athlete who struggles with self-doubt, loses confidence, or cant take "practice confidence" to competition, The Confident Athlete is for you!
Self-confidence is what separates champion athletes from the rest of the competitors…
You can tap into my knowledge and experience to learn how to bring ultimate confidence to competition!
The Confident Athlete CD and workbook program consists of 2 audio CD's that include 14 days of confidence fueling exercises and a simple to follow workbook that guides you through the 14 days, helps you apply the strategies and customizes the exercises to your personal needs.
Remember, confidence is a choice you make. You have to make a conscious effort to proactively seek confidence building thoughts and behaviors. Confident Athletes are proactive when it comes to confidence!
Learn more about one of our most popular CD programs in The Confident Athlete Series…
The Confident Athlete: A 14-Day Plan For Ultimate Self-Confidence
Take control of your mindset and performance today!
What are mental game customers saying about our confidence boosting program?
"We are amazed at how much 'The Confident Athlete' program has helped my niece play her best tennis during matches. She literally made it to the farthest round of a tournament (semifinals) after finishing the CDs/workbook. We are going to do all 3 in the series."
~Jason Bourguignon, Uncle
"We love 'The Confident Athlete.' My 10-year-old daughter is an equitation rider and show jumper. We started your program as soon as we received it and got to lesson 6 just before a major competition. Natalie came 4th in the children's open equitation and 3rd in the children's show jumping champs. An amazing achievement on which many people commented… As a parent, it has been great for me as I now am more capable of assisting her in her mental preparation. Thanks so much!"
~Beth MacLarty, Sports Parent
"I am a ASP world qualifying professional surfer and after beginning the 'The Confident Athlete' I had an almost instant change in attitude about my own surfing ability and my mindset going into competition. By using the Confident Athlete strategies, my confidence has done a complete 180 degrees. I won a local pro/am a few weeks back, and just had my best result of the year in one the last big events on the world circuit this last week in Brazil! It is my secret weapon!"
~Shaun Burrell, Professional Surfer
(Listen to his success story)
Boost Your Self-Confidence And Focus With Expert Mental Game Coaching!
If you're a top performer during practice but find yourself under-performing in competition, the most likely culprit holding you back is your mental game. In fact, many athletes struggle with the same problem….
Master mental game coach Dr. Patrick Cohn can help you overcome your mental game issues with personal coaching.
Meet with us via Skype, phone, FaceTime, or GoTo Meeting. With today's video technology, we are able to connect with athletes and coaches all over the globe.
Mental toughness coaching helps serious athletes like you to uncover the beliefs and attitudes that keep you from performing to your potential. You'll learn mental game strategies to perform at your peak more often, overcoming performance plateaus and lack of consistency
Call us toll free at 888-742-7225 or contact us for more information about the different coaching programs we offer!
What are our mental coaching students saying?
"WOW!!! What a week I had. I was able to perform with a confidence that allowed my style to shine through–no more entering the arena with that "deer in the headlights" look or feeling. I stopped evaluating myself while I was performing, and I actually left the arena after my patterns feeling like I had experienced a lot of fun. Thank you so much."
~Julia Dreyer, National Champion Equestrian
"Peaksports.com website is so exciting. I researched them all and without a doubt your mental training site is the best! The vast amount of programs you provide helps athletes and coaches achieve higher levels of excellence in sports."
~Doug Bolander, Hockey Coach
"Thanks for all your help Dr. Cohn. You can rest assured that all our work came in very handy when I successfully qualified for the European Tour. I'm very happy and extremely thankful to you for helping me achieve this massive goal of qualifying for the European Tour! Thanks a lot again."
~Alex Rocha, European Tour Player
Disclaimer
*Testimonials found on this site are examples of what we have done for other clients, and what some of our clients have said about us. However, we cannot guarantee the results in any case. Your results may vary and every situation is different. No compensation was provided for these testimonials.