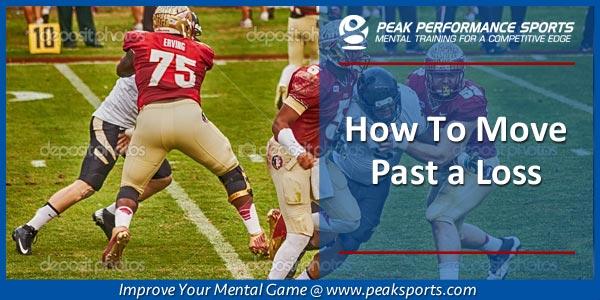 Focus On Improving After A Loss
A loss can sometimes have a lingering affect on athletes and coaches.
You can start to question your ability and allow mistakes to haunt you, depleting your confidence.
If you allow it, loses can zap your motivation and prevent you from achieving your goals.
Getting over a loss quickly is a hallmark characteristic of championship teams and elite successful athletes.
But what is the best way to move on after a big loss?
The answer is to focus on how to improve instead of beating yourself up over the past.
The Florida State University football is facing this dilemma after a devastating loss to Georgia Tech.
Florida State University was unbeaten when they faced a Georgia Tech team who was on a five-game losing streak.
In the final play of the game, the Yellow Jackets blocked a FSU 56-yard field goal attempt and ran the ball back 78 yards for the tie-breaking touchdown.
The FSU loss was their first of the season and may have significant ramifications for their run at the national championship.
FSU head coach Jimbo Fisher was asked what they would do differently to prepare for next week's contest. Fisher said his team would get right back on the horse and move forward. Often when you relive losses, it can build into more losses.
FISHER: "Line up and play the same way we did last week. We're going to do nothing different… We're going to play and not let one loss become two and [we're] going to work our butts off and [we're] going to practice."
In response to how his team would get over the loss, Fisher is not in panic mode, nor does he want his team to panic.
You can't turn back time and erase the loss, so it is full speed ahead, prepare for the next team and get back to work.
FISHER: "There ain't any magical dust you are going to throw on them or magical words you are going to say… You got to make your mind up that you are going to play. Athletics is about one thing, doing. Desire is great, dreams are great, goals are great. Commitment is the key. You got to be committed all the way in to do what you are going to do. We lost one game, the sky is not falling."
Tip for Moving Past a Loss
In order to move past a loss, you need to ask yourself two questions:
What can I do about the loss? If you do not own a time machine, the answer is NOTHING! You can't change it, so stop wasting the mental energy ruminating about the loss. Remind yourself that the sky is not falling.
What will I do after the loss? You need to learn the appropriate lessons on what you can change for future games then get back to work. Like Coach Fisher said, "Commit all the way in to do what you are going to do."
The key is to think about how you will learn and grow instead of dwelling on the past and the mistakes you might of made.
Check Out Our Video of the Week, Fear of Failure and Mental Toughness in Sports!
---
Learn Powerful Trust-Boosting Mental Strategies!
Are you frustrated with practicing harder in your sport only to have your effort undone by your mental game during competition?
Do you feel like your stomach is in a ball of knots and you cant think clearly because you are so anxious and tense stepping on the the field, court, course or track?
Check out our program, The Fearless Athlete!
The Fearless Athlete CD and workbook program is a 14-day plan for unbeatable trust. This program is ideal for any athlete or coach that wants to discover powerful mental strategies to overcome fear, perfectionism, and perform with trust.
Learn more about one of our most popular CD programs in The Confident Athlete Series…
The Fearless Athlete: A 14-Day Plan For Unbeatable Trust
What are customers saying?
"Patrick, with your great instruction on the mental game, I had the best nationals I have ever had. And even more important, I got through the five days relaxed and had fun – a new concept in my life! The bottom line – I got five firsts and one second! Thank you!  You are just what I needed."
~Dennis O'Brien, Swimmer
---

Add More Value To Your Mental Training Programs!
This workbook series was designed for coaches and mental coaches to use with their athletes.
The Athlete's Mental Edge workbooks complement your existing mental training program. Each of the 15 workbooks in the Athlete's Mental Edge System teaches your athletes a specific mental skill to improve their performance.
For mental coaches, this system is ideal for between session education.
For sports coaches, you'll be able to conduct 15 team seminars using the workbook system.
In the Athlete's Mental Edge workbook system, you receive 15 easy-to-read, practical Mental Edge Workbooks on PDF, as well as 16 coaches' game plan MP3 audio files.
Athlete's Mental Edge Workbook System
What are coaches saying?
"I am impressed with the willingness and openness of Dr. Cohn to share all of his assets (intellectual, products, etc.) with the MGCP students. You have developed an incredible model/package for mental training. Even though we are paying for your service, you are passing on a legacy built on your contribution to the world of sports. Thank you for that."
~Tony Melito, MGCP
---
Boost Your Self-Confidence And Focus With Expert Mental Game Coaching!
Master mental game coach Dr. Patrick Cohn can help you overcome your mental game issues with personal coaching.
You can work with Dr. Patrick Cohn himself in Orlando, Florida or via Skype, FaceTime, or telephone. Call us toll free at 888-742-7225 or contact us for more information about the different coaching programs we offer!
What are our students saying?
"After working with you on my mental game, the season went very well. I made all conference and an all American list and I still have room for improvement."
~Alex Mack, college football player