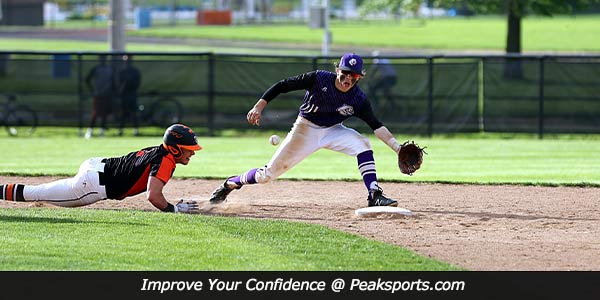 Build Proactive Confidence to Improve Your Game
How would you grade your confidence over the course of the past athletic season? Would you give yourself an A? B? C+?
How much more could you accomplish if you bumped up your confidence grade?
Unfortunately, a lack of confidence holds many athletes back and creates feelings of frustration and disappointment.
One of the most common questions we receive from our surveys is "How can I improve my confidence?"
One respondent noted how frustrated she has become due to her plateauing over the course of the past year.
From the beginning of preseason, you might have felt, "This is the year. A brand new start. I'm going to break out this year." You worked hard. You felt good in your first few competitions but didn't see the drastic improvements you expected.
Your confidence wavered and the thoughts of "I knew I couldn't do this" flooded in your mind. Your level of effort in training dropped off and your performance leveled off. Your coaches and parents kept telling you that you are talented but just need a little bit of confidence… But how?
Next-level Performance Demands Superior Confidence
You already know that confidence is important, but it doesn't happen by chance nor is it developed overnight.
To improve your confidence, you need to actively build your confidence.
For example, Detroit Tigers' left-hander Tarik Skubal is brimming with confidence as he fights for a spot in the 2021 starting rotation.
In his debut season last year, Skubal pitched in 8 games with a 5.63 ERA, 37 strikeouts and 11 walks in 32 innings.
SKUBAL: "[The players on the team] are extremely talented and very gifted players. I need to push myself even harder and especially not get complacent. As far as the mentality, I'm going to attack spring training the same way I always have, and that's just to go out there and build innings up and making sure you're healthy from the ground up… I try not to focus on winning a rotation spot. I'm just trying to go out and control what I can control and let everything take care of itself."
You can hear the confident tone from Skubal's statement. Skubal provides some "how-to build confidence" tips.
"Attack spring training" – Confidence is built through preparation.
"Making sure you are healthy from the ground up" – Confidence is improved by working on all aspects of performance: physical, technical and mental.
"Focus on winning a rotation spot" – Confidence grows by keeping the focus on you, your strengths, your abilities and your successes.
"Control what I can control" – Confidence remains stable when you focus on aspects you can control: effort, focus and mindset.
As mentioned earlier, to have more confidence, you need to take responsibility for feeling confident.
Plenty of resources are available to you to learn effective confidence-building strategies… But you need to take the first step and commit to taking control of your SELF-CONFIDENCE!
How to Have Proactive Confidence:
First, understand the confidence busters, such as doubt, making comparisons and high expectations. Work to manage the confidence busters as these will hold you back.
Next, focus on your plan for "Being healthy from the ground up." What will you do to improve your physical and technical game?
Be sure to focus on your talents and strengths every day. Don't disqualify what you bring to your team or sport and past experience or success.
---
Learn Mental Game Strategies to Boost Your Confidence in Sports!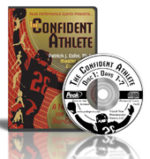 If you're an athlete who struggles with self-doubt, loses confidence, or cant take "practice confidence" to competition, The Confident Athlete is for you!
Self-confidence is what separates champion athletes from the rest of the competitors…
You can tap into my knowledge and experience to learn how to bring ultimate confidence to competition!
The Confident Athlete CD and workbook program consists of 2 audio CD's that include 14 days of confidence fueling exercises and a simple to follow workbook that guides you through the 14 days, helps you apply the strategies and customizes the exercises to your personal needs.
Remember, confidence is a choice you make. You have to make a conscious effort to proactively seek confidence building thoughts and behaviors. Confident Athletes are proactive when it comes to confidence!
Learn more about one of our most popular CD programs in The Confident Athlete Series…
The Confident Athlete: A 14-Day Plan For Ultimate Self-Confidence
Take control of your mindset and performance today!
What are mental game customers saying about our confidence boosting program?
"I am a ASP world qualifying professional surfer and after beginning the 'The Confident Athlete' I had an almost instant change in attitude about my own surfing ability and my mindset going into competition. By using the Confident Athlete strategies, my confidence has done a complete 180 degrees. I won a local pro/am a few weeks back, and just had my best result of the year in one the last big events on the world circuit this last week in Brazil! It is my secret weapon!"*
~Shaun Burrell, Professional Surfer
(Listen to his success story)
"We are amazed at how much 'The Confident Athlete' program has helped my niece play her best tennis during matches. She literally made it to the farthest round of a tournament (semifinals) after finishing the CDs/workbook. We are going to do all 3 in the series."*
~Jason Bourguignon, Uncle
"I bought The Confident Athlete and I have to tell you it is one of the best investments I've ever made in sports (and I've made quite a lot!)" I am a top amateur racquetball player. I have multiple state and regional titles, and 2 national titles. Your approach and ideas have snapped me out of a slump that has lasted way too long. The sport is fun again and I am playing like my old self for the first time in a long time!"*
~Mark Davis
---
Disclaimer
*Testimonials found on this site are examples of what we have done for other clients, and what some of our clients have said about us. However, we cannot guarantee the results in any case. Your results may vary and every situation is different. No compensation was provided for these testimonials.