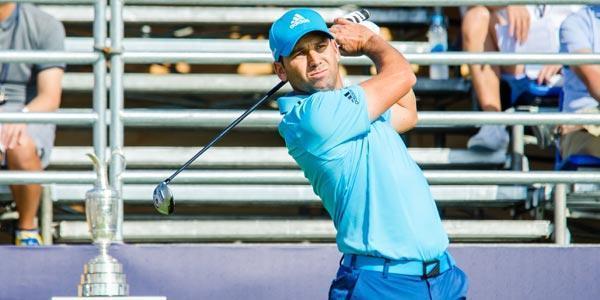 The Mental Game of Golf
You must prevail with one very important inner battle if you want to play at your peak each day…
Do you find it hard to stay in the moment during an important match? Does your mind race ahead to thinking about holding the trophy after the round (or running away to hide after they post your score)?
Our minds are constantly in conflict on the golf course. What's the inner conflict? Present versus future thinking.
Our minds are wired to think ahead… about the possibilities of a good score or a bad score. Golfers like to extrapolate their scores during the round…
"If I make three more pars, I'll break 80 or 70." What's the inner battle?
In golf, you have to focus on the current shot and the correct way to execute the current shot – the right focus to have.
But the mind wants to wander to the outcome of the round or tournament. I call this the consequences of your good play (or poor play) – the wrong approach to take…
"What if I play well?" Or "I don't want to embarrass myself today. I need to shoot a respectable score."
As a matter of fact, one of my past students, Brian Gay, was asked if he thought about qualifying for the US open if he won the Saint Jude Classic (after his 3rd round this past week).
He said he has enough to think about:
"Not until you mentioned it. No, not really, not when I'm out [on the course] I don't think about it. I would love to play in it, but I've got enough work to do here to not have to worry about that. So, nothing I need to think about," said Gay.
Brian ran away with the tournament by 5 shots.
OK, how do you overcome this inner battle? Mental discipline? Mental focus? Determination?
To win the inner battle and stay focused on the present, you first must let go of caring about results from the picture.
The more you care about results, the harder it is to focus on the process or in the present moment and the more anxiety you'll feel about obtaining a specific result.
Even if you let go of caring, no one is perfect. You're human. Your mind will wander to the future to score or winning or whatever.
The most important skill you can learn is to refocus your mind when your mind wanders to the future or thinks too far ahead.
You refocus by first recognizing your mind is racing ahead.
Then, you have to pull your mind back to the current shot. You do this by knowing exactly what thoughts, feelings, and images help you execute good shots. Execute is the key word here.
If you want to learn all my strategies I've taught to PGA Tour winners and 1000s of other golfers, I suggest you run over to peaksports and get your copy of "The Golfer's Mental Edge."
As a way of saying thank you to my loyal readers, you can get my new golf confidence CD program at half-off only this week until Thursday!
Your Mental Game Coach,
Dr. Patrick Cohn
---

Learn Proven Strategies to Perform with Confidence!
Do you suffer from fragile self-confidence after missed hits, playing with strict or high expectations that undermine confidence or the inability to play freely and relaxed on the course?
If you suffer from lack of focus, low self-confidence or other mental game obstacles on the course, you cant reach your true golf potential…
What are students saying?
"The mental side is everything in golf—the ability to see your shot or line and trust that you can hit that shot or putt. Dr. Cohn has helped me trust my game and putting stroke."
~Frank Lickliter, PGA Tour, Nike Tour Winner
"My confidence level has never been higher! I can't tell you how clearly I was able to think during all four rounds of tour-school. The simple game plan you gave me really focused me. My confidence level has never been higher during a tournament. No matter how much pressure was on, I was able to control my thoughts and execute. Thank you Dr. Cohn!"
~Patricia Baxter-Johnson, LPGA Tour
---
Learn Powerful Golf Confidence Strategies!
Are you making any "costly" mental game mistakes during your preshot routine?
Here you'll learn the top mental game strategies your preshot routine must include, 6 ways your mental routine breaks down, why indecision is your worst enemy in golf and more!
What are customers saying?
---
Boost Your Self-Confidence And Focus With Expert Mental Game Coaching!
Master mental game coach Dr. Patrick Cohn can help you overcome your mental game issues with personal coaching.
You can work with Dr. Patrick Cohn himself in Orlando, Florida or via Skype, FaceTime, or telephone. Call us toll free at 888-742-7225 or contact us for more information about the different coaching programs we offer!
What are our students saying?
"WOW!!! What a week I had. I was able to perform with a confidence that allowed my style to shine through–no more entering the arena with that "deer in the headlights" look or feeling. I stopped evaluating myself while I was performing, and I actually left the arena after my patterns feeling like I had experienced a lot of fun. Thank you so much."
~Julia Dreyer, National Champion Equestrian