Handle Your Post Game Assessment
In this sports psychology video, Dr. Cohn helps an athlete on knowing what to do in post games assessment to improve confidence and performance. Dr. Cohn answers a question from an athlete who doesn't know what to do after the game whether he wins or loses the game.
Dr. Patrick Cohn is a master mental game coach who works with junior to professional athletes at Peak Performance Sports, LLC. ​​​ Improve your mindset for sports with mental training for athletes. Watch the video on how to identify the key ideas in using a post-game assessment as a tool to improve mental game performance.
Some athletes tend to focus on the mistakes they made after their game. These mistakes creep into their mind and affects them inside and outside the court or the game. Learn how to handle post-game evaluation and use your shortcomings as learnings and start appreciating the things that you contributed to your team.

Resources for Athletes, Coach, and Sports Parent
*Subscribe to The Sports Psychology Podcast on iTunes
Download a free sports psychology report to improve your mental game!
Learn more about our one-on-one mental game coaching.
Boost Your Confidence for Sports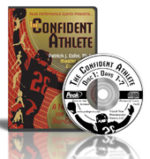 Can you experience yourself right now walking out onto the court, diamond, course, or playing field with complete conviction in your ability and unwavering confidence beaming like a bright light? Imagine feeling dominant, positive with only confident thoughts, and ready to take control of the game.
You can learn how to think like a champion and have ultimate self-confidence just like the pros. It's not hard or impossible to achieve – I help athletes reach their goals every day and you, too, can learn the same strategies I teach to my students who pay me well over $1000 per day for personal coaching.
Do you prefer confident and in control or doubt and helplessness? I thought so. You can empower yourself to take action and I have the mental strategies to help unlock your confidence and instill confidence-enhancing thoughts – so you can be in control with greater levels of confidence – consistently.