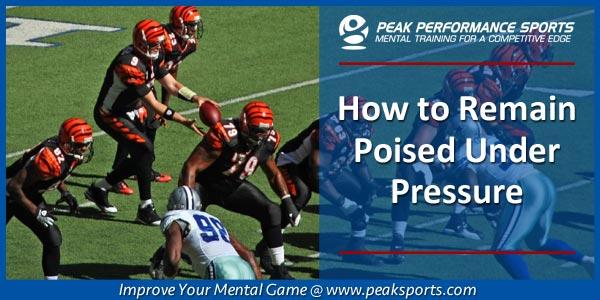 Poised Under Pressure
A championship football team shared one common characteristic… they remained poised under pressure.
Being poised and maintaining a sense of calm and control, minimize the negative effects of intense emotions.
The more riding on a game, the more important it is to maintain your composure through the game.
In fact, legendary former Cincinnati Bengal coach Paul Brown once said "The key to winning is poise under stress."
-Have there been times when you lost your cool during a game?
-How do you react when the referee makes a bad call when the time is ticking down?
-Can a trash-talking opponent take you out of your game?
Sports and momentum is all about emotion… from the elevation of making a great play to the disappointment of giving up a big play… and every emotion in between.
When you allow your emotions to dictate how you play, you are at the mercy of your emotions.
Runaway negative emotions will eventually cause you to make huge mistakes that may very well cost you the game.
In their AFC wildcard game against the Pittsburgh Steelers, the Cincinnati Bengals not only lost their composure, they fully self-destructed in the final minutes of the game.
Winning 16-15 with 1:36 left on the clock, the Bengals fumbled the ball on the Steelers nine yard line to give Pittsburgh a final chance to win the game…
The implosion continued when the Bengals were called for two 15-yard penalties called with 18 seconds (one a hit to the head on an incomplete pass and the other a dead ball unsportsmanlike call).
The pair of penalties put the Steelers in field goal position and Pittsburgh made the 35-yard field goal to win the game 18-16.
Bengals Coach Marvin Lewis admitted that his team imploded under the pressure of the game.
LEWIS: "It's disappointing. Our guys fought their tails off all year, fought their tail off today, got back and went ahead. And then we destructed on ourselves. Offense and defense together. That's disappointing."
Bengals Pro Bowl offensive tackle Andrew Whitworth emphasized the importance of being disciplined and in control during critical moments of games.
WHITWORTH: "You've got to be disciplined to understand the ultimate goal. That's always got to be important. It's not about one guy's mistake, or one guy that wasn't or was. At all times, our team as a unit, everyone has got to understand the discipline of winning the football game, and that's more important than anything else. It always has got to be No. 1. When you get those priorities out of control, that's when bad things happen."
Tip for Remaining Poised Under Pressure
Determine how you will choose to act prior you are playing in pressure moments.
Ask yourself the following question:
What things cause me to lose my composure?
How do I typically react under pressure?
What triggers occur right before I lose my cool?
Is it possible for me to react differently?
What will I choose to do differently in the future?
By being aware of how you react, being aware of your triggers, consciously choosing to react in a different manner and training yourself to react differently in practice, you can develop the poise needed to win during pressure-packed games.
---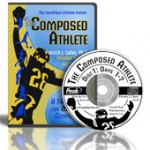 Improve Your Composure In Sports Today!
The Composed Athlete CD program helps athletes stop performance anxiety quickly and be poised, calm, and in control during those critical moments of the game. Learn more about one of our most popular CD programs in The Confident Athlete Series…
The Composed Athlete: A 14-Day Plan For Maximum Composure
What are customers saying?
"Thank you so much for taking the time to work with our team while we were down in Florida. The tips you gave about relaxation and releasing tension before we bat or do anything was very beneficial to me. I find that I even use it during my classes at school.
~Ann Miller, Softball player
---

Add More Value To Your Mental Training Programs!
This workbook series was designed for coaches and mental coaches to use with their athletes.
The Athlete's Mental Edge workbooks complement your existing mental training program. Each of the 15 workbooks in the Athlete's Mental Edge System teaches your athletes a specific mental skill to improve their performance.
For mental coaches, this system is ideal for between session education.
For sports coaches, you'll be able to conduct 15 team seminars using the workbook system.
In the Athlete's Mental Edge workbook system, you receive 15 easy-to-read, practical Mental Edge Workbooks on PDF, as well as 16 coaches' game plan MP3 audio files.
Athlete's Mental Edge Workbook System
What are coaches saying?
"I am really pleased with the Athlete's Mental Edge workbooks – they are fitting in really well with my coaching! I find they offer a great framework for doing workshop sessions. I have also used the workbooks with a few individual athletes – for the younger ones (12 and under). They are giving a good structure and framework to our sessions. The workbooks have worked well with all of them!"
~Kerri Morgan, Mental Game Coach
---
Boost Your Self-Confidence And Focus With Expert Mental Game Coaching!
Master mental game coach Dr. Patrick Cohn can help you overcome your mental game issues with personal coaching.
You can work with Dr. Patrick Cohn himself in Orlando, Florida or via Skype, FaceTime, or telephone. Call us toll free at 888-742-7225 or contact us for more information about the different coaching programs we offer!
What are our students saying?
"After working with you on my mental game, the season went very well. I made all conference and an all American list and I still have room for improvement."
~Alex Mack, college football player