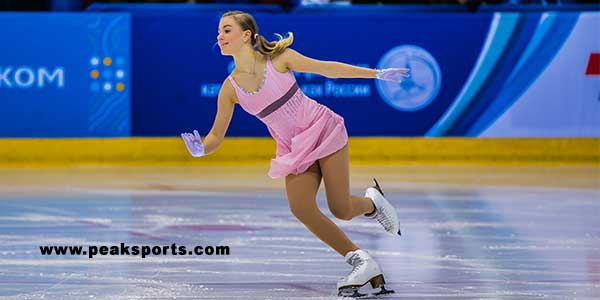 How to Improve your Figure Skating Performance
Significant improvement is the reason figure skaters practice every day for hours to reach higher levels.
Making improvement requires that you remain focused and temper expectations…
Having high expectations that you should master new skills in a short amount of time will lead to disappointment. Motor learning is not that easy.
Making mistakes when performing new skills in competition can lead to resignation.
Trying to execute perfect jumps can be met with overwhelming frustration.
Comparing your routines to top skaters' routines can hurt your confidence.
Significant improvement takes small steps, patience and perspective.
Expecting too much, too easily or too quickly is counter-productive to improvement.
Here are a few tips to improving athletic performance with less frustration:
Be patient. Too often skaters abandon working on the skill if they don't see progress after a few weeks of practice. Mastering skills requires patience and repetition in order to automate new skills. In addition, mastering skills requires mistakes. Mistakes are a step in the learning progression that move you closer to eventually nailing that skill in competition
Manage high expectations. Shoot for improvement not perfection. Perfection creates stress, tension and an inability to focus on what is happening in the moment. If you stay focused on gradual progress, give yourself a break when you mess up and credit yourself for incremental improvement, you can build confidence and stay motivated in the process.
Keep the focus on you. If you constantly compare yourself to other skaters, you will always feel second-best. Significant improvement is a matter of you being better today than you were yesterday.
Have confidence in your abilities. Many skaters fail to improve because they don't believe they have the ability to develop the skills in the first place. Confidence is more than just the belief about your ability to perform a skill in the present. Confidence is also your belief that you have what it takes, mentally and physically, to learn new skills.
Adjust, not overhaul. Significant improvement doesn't mean a complete overhaul on your technique. Small adjustments can lead to significant improvement.
If you can stay focused on these aspects, you will dramatically improve as a figure skater.
Significant improvement is exactly what 16 year-old Japanese figure skater Rika Kihira is seeking, even after a successful first season on the senior international circuit.
Kihira won six of her seven individual events at international meets and is looking to improve her routines by adding more technical and difficult jumps.
KIHIRA: "I want to be able to nail a quad jump before the start of next season. I need to build up not only my core strength but my lower body as well… I need to keep doing the things I've been doing and not change the way I skate. I want to take on new challenges, but I need to maintain stability. It's no use if I change what I've been doing."
Kihira has a sound approach towards improvement. Kihira's approach is one in which she is focused on her specific plan to diligently and slowly build upon her present skills.
How to Improve your Skating Performance:
Frustration, impatience, and trying to be perfect are the challenges that impede learning.
If you want to improve with less frustration, follow a plan based on incremental improvement over a period time and, no matter what, stay committed.
Focus on ONE skill, ONE step at a time at ONE session at a time. New skills take weeks and month to develop.
---
Discover Mental Strategies For Peak Performance!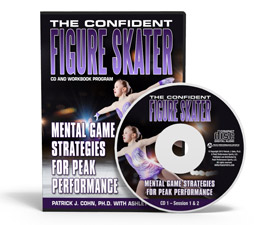 You (or your athlete) might be the most skilled figure skater and train harder or longer than anyone else, but if you can't take your practice performance to competition, you simply will not reach your true potential in figure skating.
Learn the top 8 mental game lessons to improve focus, composure, and confidence!
The Confident Figure Skater: Mental Game Strategies For Peak Performance
Discover proven mental game secrets to unstoppable confidence in practice and competition.
Figure Skaters: Get the mental edge by learning how to take control of your confidence, mentally prepare for competition, and perform with composure under pressure.
Coaches: Boost your figure skater's confidence using simple, proven mental strategies.
Parents: Help boost your athlete's performance. Don't let their mind hold them back any longer.
Mental Coaches: Learn a proven system for helping your athletes boost mental toughness.
The Confident Figure Skater: Mental Game Strategies For Peak Performance
What are mental coaching customers saying?
"I wanted to write you and tell you how thankful I am for all the help on my mental game you gave me. I took first place at states in my division and had no worries going into my final performance. You helped me change my mental game completely and it showed at my state competition. Thank you for everything."
~Brandon Haman
"I just wanted to let you know that my son skated this weekend at our Regional's Competition. He worked his mental game and everything you taught him. He skated two wonderful programs and scored a personal best. Thank you for your wonderful training. He had the right focus and had so much fun at this competition. As a parent is it so wonderful to see the difference from last year to this year."
~Pam, Skating Parent
---
Improve Mental Toughness in Figure Skating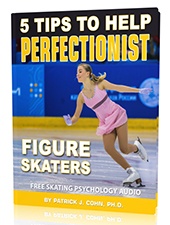 Discover 5 Tips to Help Perfectionist Figure Skaters
Download our figure skating mental training audio program: 5 Tips to Help Perfectionist Figure Skaters
You learn:
The top challenges for perfectionist figure skaters
Why perfectionist skaters under perform in competition
5 tips to help figure skaters manage perfectionism
Download our free figure skating mental training audio program: 5 Tips to Help Perfectionist Figure Skaters
---
Boost Your Self-Confidence And Focus With Expert Mental Game Coaching!
Master mental game coach Dr. Patrick Cohn can help you overcome your mental game issues with personal coaching.
You can work with Dr. Patrick Cohn himself in Orlando, Florida or via Skype, FaceTime, or telephone. Call us toll free at 888-742-7225 or contact us for more information about the different coaching programs we offer!
What are our mental coaching students saying?
"Your work with my son Taylor has really helped him perform better under pressure. Your coaching is so good that I don't want our competitors to find out about our secret weapon: Dr. Cohn!"
~Kevin Johnson, Taylor's Father
"It was amazing!!! Before the show, I really felt like I was becoming the part. I was oddly calm, which concerned me because I thought my nerves might kick in on stage! But, they didn't! I stayed focused in each moment, and remained calm, and actually did the difficult tricks better than I ever have! My coaches were all so proud of me and the one who I know the best was marveling at my calm, poised manner throughout the ballet. They said it seemed like I was doing it for the 15th time, I looked so comfortable. This is the result of my work with you! You gave me the tools to tackle this huge mountain of a role, step by step! I am beyond happy!"
~Professional Ballerina