The Importance of Having a Plan B
'Expect the unexpected' is a notion that is good in theory but rarely put into action by athletes.
The unexpected happens all the time in competition but rarely are athletes prepared to deal with it.
Many athletes train and practice expecting to perform under ideal conditions but, when things go slightly wrong, it can generate so much anxiety and ruin competitive performance.
The following examples illustrate how the unexpected can hurt an athlete's performance… a tennis player worked hard for an upcoming tournament. She felt in top condition and her serves felt powerful and dead on. But in warm-up, she broke a string on her favorite racquet which mentally threw her off her game in the first set…
Or a golfer looked forward to a top tournament all season. He worked on his putting all season and really put things together the last month. He felt that he finally put his golf game all together. Unfortunately the night before the tournament, there was a heavy rainfall which made the greens slick. He felt so upset because he finally pieced his whole game together and looked forward to shooting his lowest score but, through the first nine holes, he was a bundle of nerves…
Or a basketball player who had been out of commission for two months rehabbing an injured elbow and was excited for her first game back. She had been watching her teammates play week after week while she was injured and finally was in shape and ready to go. During warm-up, she felt a twinge in her elbow and was so worried about re-injuring her elbow that she didn't take a shot the entire game.
Sometimes, things don't go as planned but that doesn't mean things will go badly. If you practice and plan for different, less-than-optimal circumstances, you will not be totally thrown off your game when the unexpected strikes.
To clarify, uncertainty causes anxiety, so if you understand that optimal circumstances are not guaranteed, you can maintain a sense of calm and still perform well in a variety of adverse conditions.
Preparing for the unexpected is the method the US Women's National Team has prepared for the 2019 World Cup. Head Coach Jill Ellis has tinkered with different lineups, new formations and alternate match strategies to prepare the team for many different contingencies.
USWNT defender Becky Sauerbrunn stated she feels better prepared to compete after training for a variety of potential scenarios.
SAUERBRUNN: "[Head coach Jill Ellis] said she was going to throw people into formations and into games that maybe they weren't prepared for and she wanted to see how they reacted, because in a World Cup you never know what you're going to face, and you're going to have to be able to take those challenges on and still perform well. And so I feel very strong having gone through that process."
Circumstances change all the time in competitive sports and having a contingency plan in place for when circumstances are not optimal is an effective strategy for being a successful athlete.
Preparing for the Unexpected:  
You can't train for every possible scenario but you can learn to be flexible so you can better manage obstacles are thrown your way.  
Develop plan B. "If this happens, I will do this."   
Start by thinking about what might throw off your performance. What has rattled you in the past, such as opponent cheating or harsh spectators.  
Think about how you will cope with these challenges–developing a positive response to each challenge that helps you stay focused and composed.  
Work on your new coping action during practice.
---
Learn Mental Game Strategies to Improve Composure in Sports!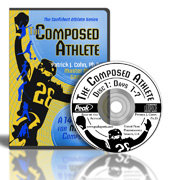 If you're an athlete who wants to learn how to stop performance anxiety quickly, be poised, calm and in control during those "critical moments", learn more about The Composed Athlete!
Powerful strategies for learning a composed mindset can be developed, but you must first strip away the mental ball and chains that prevent you from having instant composure when you need it.
How much better would you perform if you have total confidence and composure to perform your best in crunch-time?
The Composed Athlete CD and workbook program consists of 2 audio CD's that include 14 days of composure boosting exercises and a simple to follow workbook that guides you through each of the 14 days, helps you apply the strategies, and customizes the exercises to your personal crunch-time challenges and coping with pressure.
Learn more about one of our most popular CD programs in The Confident Athlete Series…
The Composed Athlete: A 14-DAy Plan For Maximum Composure
Maximize your composure today!
What are Peak Performance Sports customers saying about our confidence boosting program?
"Your Strategies Work For Students Too"
"Thank you so much for taking the time to work with our team while we were down in Florida. The tips you gave about relaxation and releasing tension before we bat or do anything was very beneficial to me. I find that I even use it during my classes at school."*
~Ann Miller, Softball player
"No More Negative Thoughts"
"I am a PGA Professional and wanted some ideas to help my students, but my own game has improved! I think I will shoot 69, negative thoughts have vanished, and my self-talk and confidence has improved tremendously. I will be referring my students to your web site."*
~Bill Allen, PGA Pro
---
Boost Your Self-Confidence And Focus With Expert Mental Game Coaching!
Master mental game coach Dr. Patrick Cohn can help you overcome your mental game issues with personal coaching.
You can work with Dr. Patrick Cohn himself in Orlando, Florida or via Skype, FaceTime, or telephone. Call us toll free at 888-742-7225 or contact us for more information about the different coaching programs we offer!
What are our mental coaching students saying?
"You Are Just What I Needed"
"Patrick, with your great instruction on the mental game, I had the best nationals I have ever had. And even more important, I got through the five days relaxed and had fun – a new concept in my life! The bottom line – I got five firsts and one second! Thank you are just what I needed."*
~Dennis O'Brien, Swimmer
"Dr. Cohn is My Mental Edge"
"A big thanks to you Dr. Cohn! I just can't get over how much of a wonderful resource you are Patrick for the mental game of motocross! Never in the history of sports have I had such an upper hand with your mental strategies!"*
~Nicky Labrecque, Motocross racer