Mental Toughness Helps Athletes Overcome Adversity in Sports
Do your current athletic challenges feel impossible to overcome?
Adversity can lead to you feeling angry, frustrated and dejected. You feel all alone, lost and can see no way out or end in sight… It seems like nobody knows how you feel or how horrible the situation is.
For example… A high school senior baseball player who is auditioning for college coaches is replaced in the starting lineup: "I will never get a scholarship if I am not playing. If I don't get any financial assistance, I won't be able to go to college."
Or a volleyball player who put in a lot of off-season strength and conditioning training develops tendonitis in her shoulder: "I worked harder than ever and now my season is ruined. Even a few weeks off will hurt my game. I wasted all that time training this summer when I could have been hanging out with my friends."
Or a college tennis player who feels dejected while going through a 5-match losing streak: "I've never played this bad in my life. My coach is disappointed in me. My parents are mad at me. My teammates are talking behind my back. I just want to quit."
Clearly, all these athletes are going through some adversity in varying degrees. Though adversity is common among all athletes, each athlete experiences adversity in different ways.
In other words, adversity is a personal experience; the adversity you face is not bigger or worse than someone else's adverse circumstances.
To overcome adversity, you want to understand that no matter what you are facing, many athletes have faced similar situations and some of those athletes have triumphed over those circumstances.
When you know other athletes have been in the same boat, you become less intimidated by what you are facing.
And every adverse situation you have experienced in your personal life and athletic life has helped you grow the mental toughness that you can draw upon to overcome your current circumstances. The key to overcoming is not based on the adversity you face, but via mental toughness.
Mental toughness is knowing you always can find a way through adversity by taking the right course of action, even if it is having the patience to wait out your adverse situation.
The year 2020 has been an adverse year for all athletes and coaches. The coronavirus, revamped training conditions, abnormal competition venues and precautionary protocols have thrust additional pressures onto athletes who already face a variety of challenging circumstances.
Miami Dolphins special teams coordinator Danny Crossman explained how your history of overcoming obstacles and considering examples of other athletes overcoming similar adversity can give you the mental strength and confidence to succeed in dealing with your current situation.
CROSSMAN: "The more that you can have a history and recognize a history of guys having to overcome some things, you feel better when those things do come along, that you're going to be able to overcome them."
When you can identify examples in your life of overcoming obstacles, it provides proof that you can deal with your current situation.
Mentally tough athletes look for an answer to overcome challenges instead of feeling helpless about the problem.
How to Build Mental Toughness Amid Adversity:
Build your resiliency resume – Make a list of relevant situations you overcame and how you overcame those circumstances.
Identifying with past challenges that you successfully overcame helps you face future adversity with a mentally tough mindset.
Look for examples of athletes you know who faced similar situations and how they were able to overcome these challenges.
---
Learn Mental Game Strategies to Improve Composure in Sports!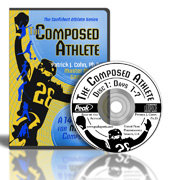 If you're an athlete who wants to learn how to stop performance anxiety quickly, be poised, calm and in control during those "critical moments", learn more about The Composed Athlete!
Powerful strategies for learning a composed mindset can be developed, but you must first strip away the mental ball and chains that prevent you from having instant composure when you need it.
How much better would you perform if you have total confidence and composure to perform your best in crunch-time?
The Composed Athlete CD and workbook program consists of 2 audio CD's that include 14 days of composure boosting exercises and a simple to follow workbook that guides you through each of the 14 days, helps you apply the strategies, and customizes the exercises to your personal crunch-time challenges and coping with pressure.
Learn more about one of our most popular CD programs in The Confident Athlete Series…
The Composed Athlete: A 14-DAy Plan For Maximum Composure
Maximize your composure today!
What are Peak Performance Sports customers saying about our confidence boosting program?
"Your Strategies Work For Students Too"
"Thank you so much for taking the time to work with our team while we were down in Florida. The tips you gave about relaxation and releasing tension before we bat or do anything was very beneficial to me. I find that I even use it during my classes at school."*
~Ann Miller, Softball player
"No More Negative Thoughts"
"I am a PGA Professional and wanted some ideas to help my students, but my own game has improved! I think I will shoot 69, negative thoughts have vanished, and my self-talk and confidence has improved tremendously. I will be referring my students to your web site."*
~Bill Allen, PGA Pro