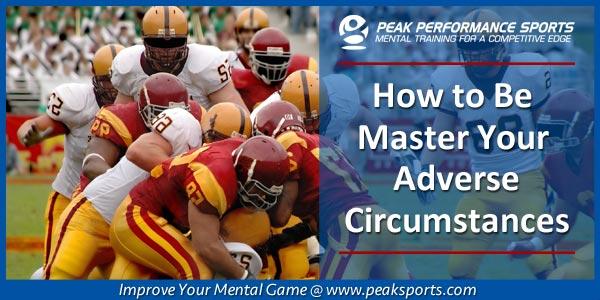 Adversity In Sports
Cold weather can have a definite impact on the outcome of a game.
Some athletes can play at a high level when temperatures are low and some players just can't perform up to their standards when it's cold or under other adverse conditions…
Does your performance drop off when game conditions are not to your liking?
Extreme temperatures add to the potential distractions players must manage… but every game is not played under ideal conditions and circumstances.
If you want to be your best, you need to be the master of your circumstances.
The Seattle Seahawks and the Minnesota Vikings faced off in the NFC wild card playoff game in one of the coldest playoff games in NFL history. Kickoff temperature in Minneapolis was -6 degrees Fahrenheit with a wind chill of -25.
Dealing with extreme temperatures added to the pressure of "winning or going home."
The Seahawks won 10-9 after Vikings kicker Blair Walsh missed a potential game-winning 27-yard field goal with 22 seconds remaining.
Minnesota quarterback Teddy Bridgewater commented that the temperature didn't affect the Vikings level of play on the field.
BRIDGEWATER: "It really wasn't a factor at all. We were warm for the most part especially on the sidelines with the heated benches. You go out on the field. It's all a mental thing. It did not affect us at all."
The cold definitely impacted the game with the Viking scoring 13 less points than their seasonal average…
The excessive cold was a factor in the holder's failure to spin the ball forcing Walsh to have to kick the lace-side of the ball on the potential game-winner and causing him to miss wide left.
Seahawks cornerback Richard Sherman admitted how cold he was and the difficulty preparing for such frigid conditions.
SHERMAN: "It was all good until my eyelashes froze, then you kind of realize it might be kind of cold out here. I went out to warm up before everybody came out and took a jog. My contact lenses almost froze over. You can't ever prepare for that kind of weather or that kind of cold because it's like sitting in the freezer."
The freezer is exactly how Seahawk kicker Steven Hauschka prepared for kicking the ball in the cold. Hauschka placed several footballs in a commercial-grade, walk-in freezer at just 4 degrees Fahrenheit and attempted field goals with the cold footballs during practice.
Hauschka's preparation paid off as he hit a 46-yard field goal with just over two minutes remaining to give the Seahawk's a 10-9 lead.
One thing to remember is that you, your teammates and your opponents are all playing in the same conditions.
If you can find a way to embrace the cold, instead of viewing it as the enemy, you will give yourself an edge over other competitors.
Tip for being a Master of your Circumstances:
The first to being a master of your circumstances is to be physically and mentally prepared for adverse conditions.
Realize that, during every game, every player is playing under the same conditions… and most of those players will be miserable playing in those conditions. Players who complain about the weather or field conditions are beat before the game starts.
Your advantage will come from staying positive and not allowing circumstances to infiltrate your mindset. Focus on what you can control instead of letting the conditions control you.
Learn about all my tips for focusing under adversity with The Focused Athlete CD and Workbook program….
---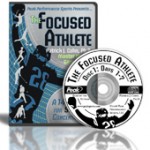 Improve Your Focus for Sports Today!
The Focused Athlete CD and workbook program helps athlete boost concentration, eliminate distractions, and consistently improve sports performance. Learn more about one of our most popular CD programs in The Confident Athlete Series:
The Focused Athlete: A 14-Day Plan Superior Concentration
What are customers saying?
"I enjoyed 'The Confident Athlete Series' very much. I particularly liked the format, the ease of the program, and the 2 CDs that accompanied the workbook – 10-20 minutes a day was simple to adhere to and put in my busy schedule. I love the part about confidence with grace, and what I want to portray and feel the minute I step foot into Los Angeles for nationals. I love the affirmations, the relaxation techniques, and just the entire perspective of the program."
~Sarah, US National Aerobic Gymnastics Team
---

Add More Value To Your Mental Training Programs!
This workbook series was designed for coaches and mental coaches to use with their athletes.
The Athlete's Mental Edge workbooks complement your existing mental training program. Each of the 15 workbooks in the Athlete's Mental Edge System teaches your athletes a specific mental skill to improve their performance.
For mental coaches, this system is ideal for between session education.
For sports coaches, you'll be able to conduct 15 team seminars using the workbook system.
In the Athlete's Mental Edge workbook system, you receive 15 easy-to-read, practical Mental Edge Workbooks on PDF, as well as 16 coaches' game plan MP3 audio files.
Athlete's Mental Edge Workbook System
What are coaches saying?
"I'll start by saying that the Mental Edge Workbook program is awesome. It put all the pieces together for my mental work with soccer players."
~Eitan Azaria, Mental Coach for Soccer
---
Boost Your Self-Confidence And Focus With Expert Mental Game Coaching!
Master mental game coach Dr. Patrick Cohn can help you overcome your mental game issues with personal coaching.
You can work with Dr. Patrick Cohn himself in Orlando, Florida or via Skype, FaceTime, or telephone. Call us toll free at 888-742-7225 or contact us for more information about the different coaching programs we offer!
What are our students saying?
"After going through a week of practice using your pre-kick routine, I was perfect on three field goals on a muddy field and a windy day in my final college game. Now I am entertaining the idea of trying to enter the professional ranks. Thank you for your help!"
~Nate Littlefield, Collegiate Kicker