How to Build Trust and Confidence in your Game
Confidence and trust in your skills go hand-in-hand.
Without confidence, you won't believe in your ability to perform under pressure. Without developing trust in your skills, you won't have confidence heading into a competition.
So, which comes first, trust or confidence?
And how do you develop these mental skills to allow you to perform at your peak?
Let's examine the mental skills of confidence and trust:
What is Confidence?
Believing you have the physical and mental attributes to perform a skill.
Having the belief you can develop needed skills through training and practice.
Believing in your ability to perform a skill in competition despite pressure.
What is Trust?
Knowing that you have put in the physical reps to let it happen and rely on muscle memory during play.
Simplifying your game during competition.
Being decisive and playing athletically. Staying in the present with little or no thought about the outcome.
As you can see, confidence and trust influence each other. Let's simplify. Trust is built through repetition and practice… And confidence is fostered through preparation and recognition of your successes, improvements, and positive qualities.
When you lack trust or confidence, you under-perform or are hesitant in competition.
Point Guard Ben Simmons Uses Trust and Confidence to Boost his Performance
For example, Philadelphia 76ers point guard Ben Simmons, a four-year veteran, is known for his aggressive defense and passing, but he is also known for his hesitancy in taking outside jump shots, especially from three-point range.
In his first three seasons, Simmons only attempted 3 shots from the 3-point line going 1-for-3. In the first few games of the 2020-21 season, Simmons has attempted two 3-pointers and made both.
Simmons has been practicing and working on his 3-point shot before games and in practices, developing both confidence and trust in his shot. It is clear that Simmons' work has paid off.
Simmons commented on one of his three-pointers this season against the Orlando Magic. With no hesitancy, Simmons just released the ball with no conscious thought or worry about the outcome.
SIMMONS: "I came down [court]… Joel (Embiid) threw [the ball] to me in the corner, and I let that go. Joel [Embid] threw the pass, he knew I was gonna put it up. It was a shot that I work on, corner 3s. I feel comfortable taking it so I knocked it down."
Teammate Seth Curry talked about his confidence in Simmons' ability to knock down three-pointers.
CURRY: "I've seen him make it in practice, and I know he can knock it down. Especially from the corner, so it's just a matter of him doing it in a game and stepping into it with confidence. It didn't look like there was too much hesitation on the shot, and I expected it to go in, to be honest."
When you work on your physical skills, without self-judgment or harsh criticism, you build the needed trust and confidence to perform at your peak under the pressure of competition.
How to Build Trust and Confidence:
Practice, prepare, test your skills, and repeat…
Visualize yourself performing the skill successfully in competition. When you visualize, you imprint those images in your mind and build the trust and confidence necessary to be successful in competitions.
Visualize or mentally rehearse yourself playing freely and athletically during your warm-up routine. Get into the mindset that all your practice is behind you and it's time to just compete.
---
Related Sports Psychology Articles
*Subscribe to The Sports Psychology Podcast on iTunes
*Subscribe to The Sports Psychology Podcast on Spotify
Download a free sports psychology report to improve your mental game!
Learn more about our one-on-one mental game coaching.
---
Learn Mental Game Strategies to Boost Your Confidence in Sports!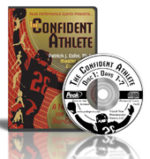 If you're an athlete who struggles with self-doubt, loses confidence, or cant take "practice confidence" to competition, The Confident Athlete is for you!
Self-confidence is what separates champion athletes from the rest of the competitors…
You can tap into my knowledge and experience to learn how to bring ultimate confidence to competition!
The Confident Athlete CD and workbook program consists of 2 audio CD's that include 14 days of confidence fueling exercises and a simple to follow workbook that guides you through the 14 days, helps you apply the strategies and customizes the exercises to your personal needs.
Remember, confidence is a choice you make. You have to make a conscious effort to proactively seek confidence building thoughts and behaviors. Confident Athletes are proactive when it comes to confidence!
Learn more about one of our most popular CD programs in The Confident Athlete Series…
The Confident Athlete: A 14-Day Plan For Ultimate Self-Confidence
Take control of your mindset and performance today!
What are mental game customers saying about our confidence boosting program?
"I am a ASP world qualifying professional surfer and after beginning the 'The Confident Athlete' I had an almost instant change in attitude about my own surfing ability and my mindset going into competition. By using the Confident Athlete strategies, my confidence has done a complete 180 degrees. I won a local pro/am a few weeks back, and just had my best result of the year in one the last big events on the world circuit this last week in Brazil! It is my secret weapon!"*
~Shaun Burrell, Professional Surfer
(Listen to his success story)
"We are amazed at how much 'The Confident Athlete' program has helped my niece play her best tennis during matches. She literally made it to the farthest round of a tournament (semifinals) after finishing the CDs/workbook. We are going to do all 3 in the series."*
~Jason Bourguignon, Uncle
"I bought The Confident Athlete and I have to tell you it is one of the best investments I've ever made in sports (and I've made quite a lot!)" I am a top amateur racquetball player. I have multiple state and regional titles, and 2 national titles. Your approach and ideas have snapped me out of a slump that has lasted way too long. The sport is fun again and I am playing like my old self for the first time in a long time!"*
~Mark Davis
---
Disclaimer
*Testimonials found on this site are examples of what we have done for other clients, and what some of our clients have said about us. However, we cannot guarantee the results in any case. Your results may vary and every situation is different. No compensation was provided for these testimonials.